In a general way, fertilizer production line refers to produce raw materials into fertilizer. The use of chemical fertilizer plays an important role in the development of agriculture. Thus, the fertilizer production is stepping into industrial production. The form to produce fertilizer has transformed from the man-made to the large-scale machines. As a supplier of fertilizer making equipment, Shunxin has many years' experience in fertilizer making machine production.
At present, Shunxin supplies three main complete fertilizer manufacturing lines. They are organic fertilizer production process, compound fertilizer making line and BB manure production line. What's more, with the variety of the state of fertilizer shape, the fertilizer can be furtherly divided into pellet fertilizer and the powder fertilizer, which will lead to different fertilizer manufacturing process.
In the following contents, our company will make a detailed statement for you.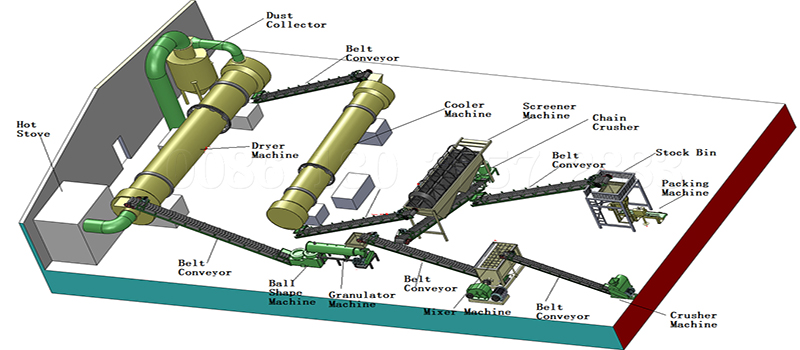 Three Main Hot Sale Fertilizer Production Lines in Shunxin Fertilizer Making Machine Factory
Full Ranges of Facilities for Your Fertilizer Production Plants in Shunxin
As a professional fertilizer equipment manufacturer, Shunxin provides you various machines with different functions. And for your different requirements, we have different equipment configurations for you to choose. Here you can know some key machines in fertilizer manufacturing process. Meanwhile, there are also some machines for you to make your fertilizer processing better.
What are the key facilities in small scale organic fertilizer production lines?
For your small scale organic fertilizer plant, there are some key equipment in Shunxin for your reference. With these machines, you can get high-quality organic fertilizers rapidly. Meanwhile, the labor force and cost will be highly reduced.
Shunxin's solutions for granular fertilizer production line customers
Processing powdery fertilizer into granules, there are different machines for your compound fertilizer and organic fertilizer granules making. Meanwhile, using different granulators, the manufacturing process is different, too.
Auxiliary Fertilizer Facilities for Eco-friendly & Quality & Higher Efficient Fertilizer Production
Besides the main equipment mentioned above, there are also some machines for you to make your fertilizer making processes smoother. For example, the conveying equipment is helpful for transporting your fertilizer materials conveniently. And we also have facilities for you to make better fertilizer products.
Recommended organic materials used in fertilizer production lines
Industrial waste: vinasse, vinegar, cassava, sugar, slag, etc.
Urban sludge: river silt and sewer sludge
Agricultural waste: straw, soybean meal, cotton aphid, etc.
Livestock and poultry manure: chicken manure, cattle and sheep horse dung, rabbit dung, etc.
Domestic garbage: kitchen waste
Tips: in order to make microbial fertilizer, there will need specific microbial inoculants. Such as: rhizobium, nitrogen-fixing bacteria, VA mycorrhizal agent, etc.
Popular fertilizer production project solutions for organic waste treatment designed by Shunxin Fertilizer Machinery
If you have interest in the above fertilizer production lines, please contact us in time. Shunxin is always here and welcome to visit our factory at any time.
Why choose Shunxin as supplier for your fertilizer production line establishing?
Shunxin is a professional fertilizer machines manufacturer in China. We have our own factory for producing machines for your fertilizer making requirements. In the past 20 years, our fertilizer equipment have been sold at home and abroad. Our customers often apply these machines on their organic fertilizer making plant, bulk blending fertilizer business or animal farm, such as dairy cattle farm, chicken farm, etc.
Especially, for your different fertilizer manufacturing requirments, Shunxin has many equipment configurations for you to choose. According to your budget, plant scale and materials requirements, we can recommend you different equipment configurations. Meanwhile, if you need, it is available to customize for you.