What is Shunxin fertilizer pelletizer?
Fertilizer pelletizer is a kind of fertilizer making machine. Simply speaking, fertilizer pelletizer is the machinery that makes powdery matters into particle. To be honest, Shunxin fertilizer pellet granulator specializes in processing powder fertilizer into granular manure. According to the difference of processing flows, our manure granules making machine can be divided into organic granulator machine and compound granulator machine.
In addition, due to different raw materials, there are granulating machines for NPK compound fertilizer granules, chicken manure pellets, cow manure granular and so on. What's more, Shunxin granules making machine has reasonable design, which is easy to operate. And employing advanced technology, Shunxin pellet mill is durable. Equipped with our granulators, there will be great improvement for fertilizer production efficiency.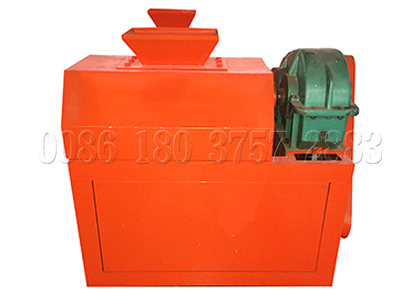 Extrusion Fertilizer Pelletizer
Model: SXJZ-1T
Power: 37-45kw
Granule Diameter: 3-10mm
Roller Sheet Size: 300*300mm
Dimension: 1850*1100*2050(mm)
Color: red(can be customized)
Shunxin Small scale disc fertilizer pelletizer for manufacturing fertilizer granules
When it comes to establish a small-scale fertilizer pellets production line, our experts generally recommend the pan granulator. Shunxin disc fertilizer pelletizer is the best choice to small-scale fertilizer plants. It has more than 93% granulating rate. And the minimum capacity is 0.02 ton per hour. The most important is you can assemble our disc granulator in both organic fertilizer pellets processing line and compound fertilizer pellets manufacturing line.
Notice:
when using this granulator machine, you should put it on the very flat place.
Apart from keeping the materials humidity, you should add binder into fertilizer powder during granulating process.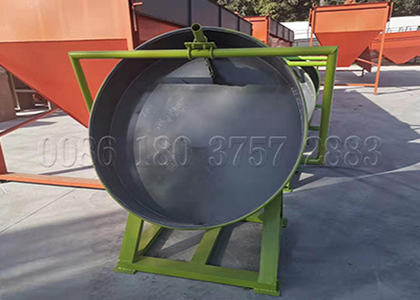 Disc Fertilizer Pelletizer
Model: SXYZ-2000
Edge Height: 350mm
Rotary Speed: 21(r/min)
Capacity: 1.2-1.5t/h
Total Power: 4kw
Dimension: 2260*1650*2250mm
How to make dried cow manure pellets with Shunxin's double roller extrusion fertilizer pelletizer?
As you know, cow manure is common animal waste, which could provide high nutrient for the crop growth. However, the fresh cow dung may contain some diseases and pests. Thus, the farmer can't direct use it to the farmland. Generally speaking, if you want to get better dried cow dung granules, there needs four steps. And Shunxin could supply complete fertilizer making machines.
Fermentation process
Fertilizer turning machine regularly mixes fresh cow dung evenly. It could help microorganism agents quickly decompose organic substance in cow dung and kill pests. Shunxin has self propelled compost turner, which is efficient for materials fermentation.
Crushing process
The cow dung materials need to reach requirements of granulating process. Therefore, you need a fertilizer crusher to crush cake cow manure into fine powder. Here Shunxin has several types crushing machine for your reference. Such as: semi-wet material crusher, cage crusher, chain crusher and new type vertical crusher. So, if you have demand for manure crusher, please contact us in time.
Mixing process
This step is to mix cow dung and other auxiliary material uniformly for the nutrients distributed evenly in fertilizer. To be honest, our disc fertilizer mixer and double shafts horizontal mixer can quickly mix all materials evenly.
Granulating process
Granulating process is the key procedure for making dried cow manure. Here Shunxin advises you choose double roller extrusion pellet granulator. It employs the working principle of dry granulation. Double roller extrusion pelleting machine uses the extrusion force to produce powder cow manure into pellet at a room temperature.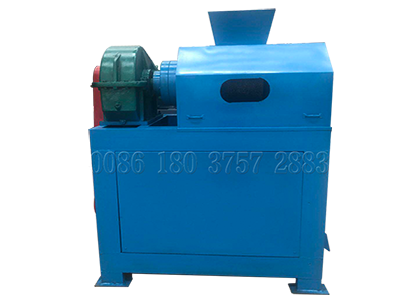 Double Roller Extrusion Fertilizer Pelletizer
Model: SXJZ-1T
Power: 11-15kw
Granule Diameter: 3-10mm
Roller Sheet Size: 150*220mm
Dimension: 1450*800*1450mm
Color: red(can be customized)
Here you should pay attention to the two details in making dried cow dung granular:
First, during the fermentation period, the cow dung moisture should be around the range of 50% to 60%. Besides, it is the most suitable that composting temperature keeps around 70 degrees in fast fermentation period.
Secondly, in granulating procedure, the cow manure moisture must be under 10%. And in addition, you should process block cow dung completely into powder.
Large scale livestock manure pellet granulator manufactured by Shunxin for sale
Do you still worry about how to deal with large amount of livestock manure? Why not try to make them into organic fertilizer pellets? By this way, not only do you solve the problem, but also you could get high nutrient fertilizer. Shunxin Heavy Industry manufactures rotary drum fertilizer pelletizer, which is specially used in large-scale fertilizer production. It can make your livestock into specific granular shape because of centripetal force. What's more, the largest capacity could reach up to 30t/h. All our clients give the highest praise to the rotating pellet making machine. At present, Shunxin rotary drum granulator has 5 different configurations. If you are interest in our products, please feel free to send inquiry to us.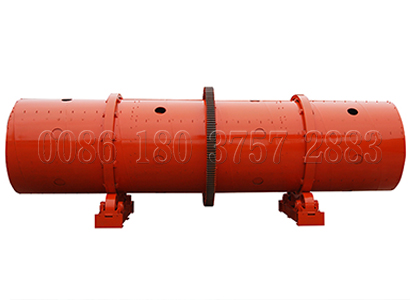 Large-Scale Rotary Drum Fertilizer Pelletizer
Model: SXZGZ-3210
Power: 37kw
Diameter: 3200
Installation Angel: 2°-5°
Rotary Speed: 9.5(r/min)
Capacity: 15-30
Shunxin dedicated new type organic fertilizer pelletizer for organic fertilizer granulation plants
In order to meet the large marketing demands of organic fertilizer manufacturers, Shunxin designs the new type organic fertilizer pelletizer. The wet type stirring granulator makes use of high speed rotary mechanical agitation force and resulting aerodynamic force to finish the granulating process. The granulation method has high granulating ratio. The organic fertilizer granules are more beautiful.
Now take the vermicompost organic fertilizer as an example to describe the pelleting process:
First of all, you should compost the vermicompost materials until the organic substance is completely decomposed.
Then, crushing the fermented vermicompost materials into fine powder.
Last, using the fertilizer conveyor delivers the vermicompost powder into new type organic fertilizer granulation machine. And then the vermicompost fine powder materials will continuously achieve the process of mixing, granulating, balling and densification in the pellet granulator.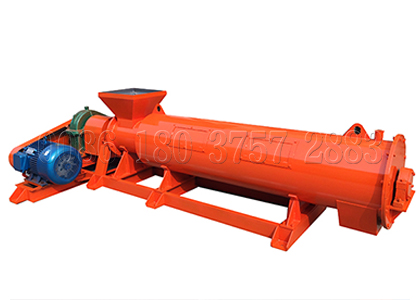 New Type Organic Fertilizer Pelletizer
Model: SXJZ-600(can be customized)
Installation Angle: 2°-2.5°
Moisture of Feeding Materials: 20%-40%
Size of Feeding Materials: 50 mesh
Dimensions(mm): 4100×1600×1150
Capacity(t/h): 1-1.5
Seven available features of Shunxin fertilizer pelletizer for fertilizer pellet makers
Shunxin Heavy Industry has produced fertilizer pellet making machine for more than 30 years. Based on many years' producing experience, Shunxin's pellet granulator has the following performances:
Wide application. You can use Shunxin granulators in bio organic fertilizer production line, small scale organic fertilizer production line, NPK compound fertilizer production line, etc.
High granulating rate. All the four mentioned granulation equipment is over 90% granulating ratio.
Wide choice in different types. Shunxin has four types pellet granulators for you. Furthermore, each of them has many configurations and models.
No waste. Our pellet making machine use the electronic power to drive the machine motor, not the fuel.
Factory price. Shunxin directly sales products to customers, without third party.
Providing methods of installation. If you purchase Shunxin granules making machine, our technical staff will instruct you to install this equipment.