What is the fertilizer granulating equipment?
Commonly speaking, fertilizer granulator is a crucial equipment in the chemical fertilizer granule production line. It is used for making the mixed powder fertilizer into chemical pellet manure. Here, there are two types of fertilizer pellet making machine. One is the organic fertilizer pellet machine like new type organic fertilizer granulator and disc pelletizer. The another is compound fertilizer pellet mill such as double roller extrusion granular fertilizer machine and rotating granulator. To be honest, Shunxin could provide the two kinds of granulators for granular fertilizer suppliers. Here you should notice that each type of the granulator has its notable performances in configuration, capacity, working principle and so on. The next contents, Shunxin show you some messages about these granulators.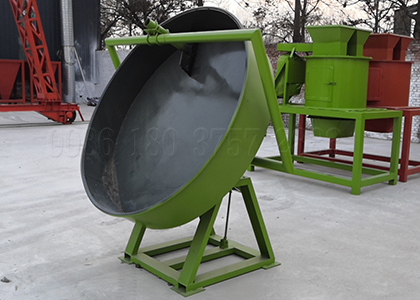 Disc Pelletizer
Model: SXYZ-500
Edge Height: 200mm
Rotary Speed: 32(r/min)
Capacity: 0.02-0.05t/h
Total Power: 0.55kw
Dimension: 650*600*800(mm)
Various raw materials can be processed by Shunxin's fertilizer granulator
Shunxin fertilizer granulator could process many different materials. the following contents is the detailed classification:
Raw materials for the organic manure pellet machine as follow:
Agricultural waste: straw, bean residues, rice residue, cottonseed meals, etc.
Industrial waste: vinasse, vinegar residue, sugar residue, medicine residue and so on.
Animal dung: chicken manure, cow dung, sheep manure, and horse manure, etc.
Household garbage: kitchen waste, food waste, restaurant waste.
In addition to the above organic substance, there is the kitchen waste, urban sludge and plant residue.
When it comes to the raw materials for the compound granule fertilizer production , the most common materials are nitrogen, phosphorus and potassium or you can add certain urea fertilizer. what's more, if you want to make organic-inorganic compound granule fertilizer, the above organic substance is also available.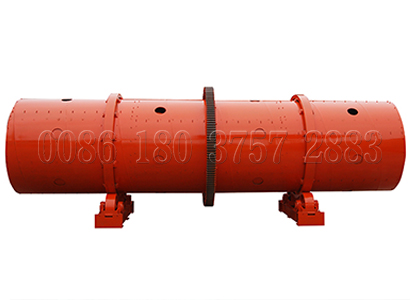 Fertilizer Granulator
Model: SXZGZ-1240
Power: 5.5kw
Diameter: 1200mm
Installation Angel: 2°-5°
Rotary Speed: 17(r/min)
Capacity: 1-3t/h
Shunxin four types hot sale fertilizer granulator
According to the above chemical material's classification, you could get the information that there is organic fertilizer granulator and compound pellet fertilizer mill. Here, you can find five different fertilizer pelletizers. Among of them, the new type organic fertilizer granulator is dedicated for making organic fertilizer pellet. while the double roller extrusion granulator is just to manufacture granule compound fertilizer. Disc granulating machine and rotary drum granule manufacturing machine are both applied to the two kind of production. Now let us respectively look at these fertilizer pellet making machines.
Wet type granulation machine for sale
New type organic fertilizer granulator is also known as stirring tooth granulator. It could process all kinds of fermented organic matters and the granulating ratio is more than 90%. Compared with other ways of producing the organic pellet fertilizer, the raw materials do not need drying, which simplify the making procedures and save energy consumption. Shunxin supplies five different configurations for you to choose. The capacity is between 1t/h and 8t/h, which is the first choice to the small granule fertilizer plant.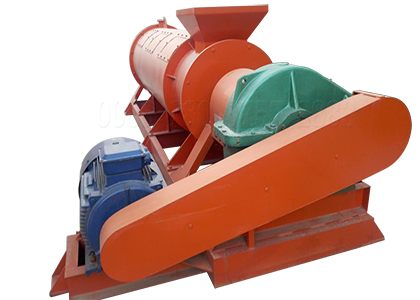 New Type Organic Fertilizer Granulator
Model: SXJZ-600
Installation Angle: 2°-2.5°
Capacity: 1-1.5t/h
Total Power: 37kw
Dimension: 4100*1600*1150mm
Application: making organic pellet fertilizers
Fertilizer disc granulating machine is usually applied to make spheroidal particles of compound fertilizer and organic fertilizer. The granulating rate can highly up to 93%. With the features of highly efficient, wide application and long service life, pan granulator is widely popular with the fertilizer pellet manufacturers.
Fertilizer rotary drum granulator is another important equipment in fertilizer granule manufacturing machines. It is suitable for mass production of cold, hot granulation and high and low concentration organic manure and compound fertilizer. Shunxin prepares five models for your reference. The largest capacity is 30 tons per hour and the smallest output is 1 ton per hour, which can meet the requirements of all kinds of scales of fertilizer granule production line.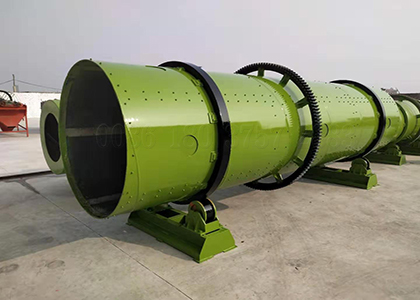 Rotary Drum Granulator
Model: SXZGZ-3210
Power: 37kw
Diameter: 3200
Installation Angel: 2°-5°
Rotary Speed: 9.5(r/min)
Capacity: 15-30 t/h
Dry type granulation machine for sale
First of all, fertilizer double roller extrusion granulator employs the advanced technology in aspect of pellet making. It is suitable for the producing high, medium, and low concentration of special compound pellet fertilizer. Similar to the new type organic fertilizer granulation facility, the fertilizer granules aren't dried after granulated and can be directly screened. What's more, you can make different particle shape with Shunxin roller granulator. Such as: the pillow shape, semicircle shape, stick shape and so on.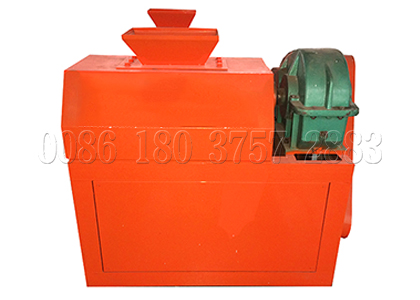 Double Roller Extrusion Fertilizer Pelletizer
Model: SXJZ-1T
Power: 22-30kw
Granule Diameter: 3-10mm
Roller Sheet Size: 185*300mm
Dimension: 1630*850*1650(mm)
Color: red(can be customized)
All in all, the above four equipment is the patent products of our company. At the end, there is the good news that Shunxin supports the customized products. Therefore, that means you can deign machines whatever you want to buy. And then, our engineer will produce the specific pellet mill for you. Please feel free to contact us.
Remarkable characteristics you can get from the Shunxin fertilizer granulator
High granulating rate. All the granular fertilizer facilities you buy from Shunxin are high performance and their granulating rates are over 90%.
First-class quality. Shunxin uses the best steel and advanced technology to manufacture these granulators.
Long service life. With reasonable design and compact structure, the machines are very durable.
Various types. Shunxin develops many kinds of granulators, which can meet all the demands for the customers.
Low energy consumption. Our fertilizer granulators use the electric as the power which won't cause gas waste to the environment.
Highly automatic. Almost the granulator is controlled by the automation equipment, which save the labor intensity.
Wide application. You can use Shunxin fertilizer granulation equipment to the production line of organic fertilizer, compound fertilizer, bio fertilizer and compost manure.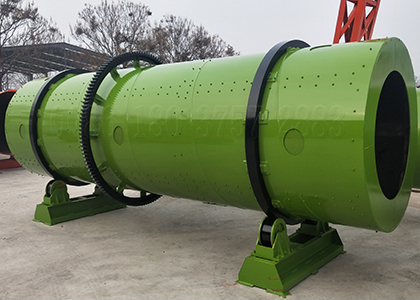 Fertilizer Pellet Mill
Model: SXZGZ-1660
Power: 45+15kw
Installation Angel: 2°-2.5°
Rotary Speed: 11.5(r/min)
Capacity: 5-8t/h
How does the fertilizer granulator machinery work in Shunxin's fertilizer manufacturing line?
To be honest, the manure granule machinery is usually assembled in the middle of pellet fertilizer production line. Before granulating, the raw materials need to go through compost, crushing and mixing.
Compost process: This is the first step that under the help of compost turners, the organic substances ferment quickly and fully. Therefore, if you plan to manufacture granule compound fertilizer, this step is unnecessary for you.
Crushing process: In this procedure, fertilizer crusher will crush fermented materials into fine powder fertilizer. Here you should pay attention to whether the materials contain moisture. Generally speaking, if the moisture is 30% to 45%, Shunxin advises you to choose the semi-wet material crusher.
Mixing process: After crushing, there usually a mixer to mix the powder fertilizer evenly, making preparation for granule. However, it isn't a necessary machine. If you have not enough funds, it is no problem without the mixer.
Granulating process: To be honest, it is the most important procedure in the whole manure granule process. According to the mentioned granulators, the four machines employ two granulation methods. Disc granule machine, new type organic fertilizer pelletizer and rotary drum granulator adopt wet type granulation. The three machines utilize the high-speed mechanical stirring force and aerodynamic force to process the fine powder fertilizer into granular fertilizer. As for the double roller extrusion granulator, it belongs to the dry type granulation equipment, which uses the extrusion force to finish the pelleting process.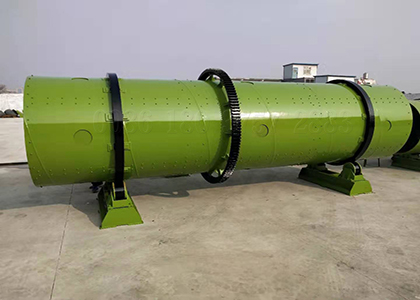 Fertilizer Granulator
Model: SXZGZ-3210
Power: 37kw
Diameter: 3200
Installation Angel: 2°-5°
Rotary Speed: 9.5(r/min)
Capacity: 15-30 t/h
Factory price of Shunxin high-quality fertilizer granulator
When it comes to price, it is understandable that all the buyers want to enjoy cheapest price. But you must know that the price varies with the different configurations. Therefore, the high configuration machine is certainly a little more expensive than the low configuration. Shunxin Heavy Industry provides the factory price for all the fertilizer pellet maker. Therefore, the quotation you got from our company is much lower than the third agent. The most important is that you can get the highly quality fertilizer granulators. If you only pursue the cheapest machines, it is also a lot of money that spend on maintaining the trouble.
Shunxin fertilizer granulator promising market in domestic and abroad
In the environment of ecological agriculture development, the demand of granule manure is increasing all the time. For example: garden fertilizer pellets, granular fertilizer for vegetables, and farmland granular fertilizer. Thus, the fertilizer granulator is getting more and more popular with the fertilizer producers.
With the continuous improvement of strength, it is no doubt that Shunxin has become the leader among numerous fertilizer granulation machine manufacturers in China. Depending on the rich manufacturing experience, our products possess best quality and own highly reputation in the home and abroad market. Up to now, Shunxin has established long-time cooperation relations with many fertilizer manufacturers in India, Egypt, Chile and other overseas countries. Hence, we believe that in the near future, we will provide more high-quality and better service for the clients in the global