What is Shunxin small scale compost turner?
Compared with large scale compost turner, Shunxin small scale compositing equipment refers to those machines that have smaller capacity. Besides, small compost turner is relatively small in size and powder. Generally speaking, small scale compost turner usually applies to small-scale fertilizer plants. However, Shunxin small compost windrow turner could also perfectly meet the demands of farmers who has large farm. Equipped with our small scale compost facility, the farmers could turn the agricultural residues like straw and poultry manures into organic compost fertilizer. For more than 30 years' experience in manufacturing composting machine, all the small turners could be customized in capacity, appearance, and specifications.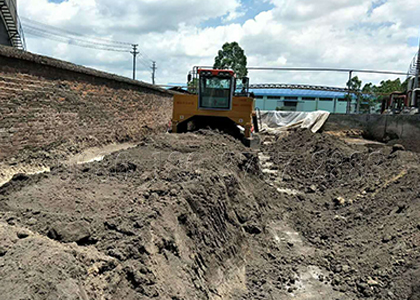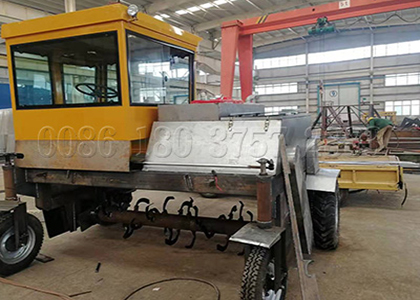 Six types highly recognized small scale compost turner by Shunxin global customers
Based on rich experience in making windrow composting turner machine, Shunxin has helped numerous customers to choose the most suitable turning machine. Over the past 30 years, Shunxin developed six types compost turners. Although they are different from productivity to configuration. But, all the six turning equipment are available for all kinds of organic materials fermentation. Therefore, you can assemble them to different types of organic fertilizer manufacturing process. Here, Shunxin experts will show you the detailed information of our fertilizer turners.
Small-scale groove type compost windrow turner
If you have built the groove in your fertilizer production factory, the best choice for you is the groove type windrow turner. It can efficiently be applied to organic fertilizer plants, like the fermentation of poultry manure, straw and filter mud from sugar mill.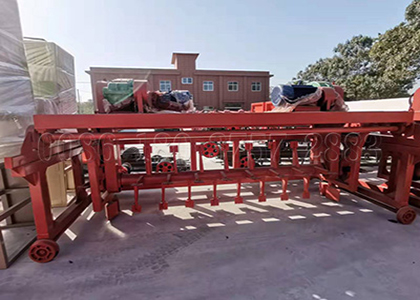 Small-scale groove type compost turner
Model: SX-3000(can be customized)
Main Power: 18.5kw
Mobile Power: 1.5kw
Lift Power: 1.1kw
Application: Turning the compost on the groove
Low consumption small-scale compost turner in wheel type
Speak of this fertilizer turning facility, the energy consumption of the same operating volume is 70% lower than traditional turning equipment. Furthermore, its turning is no dead angle. Because the wheel type turning speed is in symmetry, and under the displacement of the governor shift trolley, all fermenting materials will be turned in one time.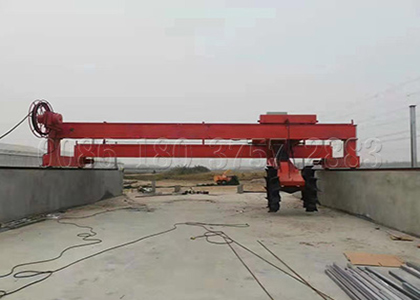 wheel type compost turning equipment
Turning depth: 1.5-3m
Turning span: ≤30m
Advantages: Highly automatic, energy-saving…
Color: red(can be customized)
Application: composting organic wastes to fertilizer
Strong applicability small-scale forklift compost turner for sale
Forklift type compost pile turner can work well in the open air or the workshop as well. No matter what your raw materials are, the fertilizer turner could stir them evenly. What's more, it is dedicated to the process requirements of microorganism aerobic fermentation materials. So, this fertilizer turner can effectively mix the viscous fermentation materials, microbial fermentation agentia and straw powder well.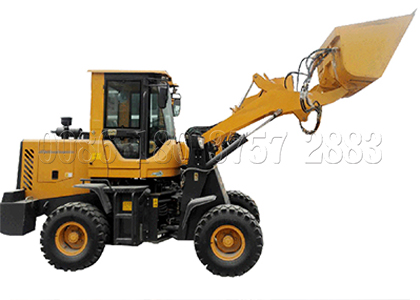 Forklift small scale compost turner
Model: SX-300
Color: Yellow(can be customized)
Size: 4930×1620×2660mm
Application: Turning organic wastes piles
Feature: Also can be used as a forklift
High speed crawler small scale compost turner
In essence, it belongs to the ground pile fermentation mode. And, at present, crawler type composting facility is the most economical mode of saving soil and human resource. Before it works, you need to pile the materials into a stack. Then you can use it to highly accelerate the materials fermentation. Commonly speaking, the period of fermentation will shorten within one week.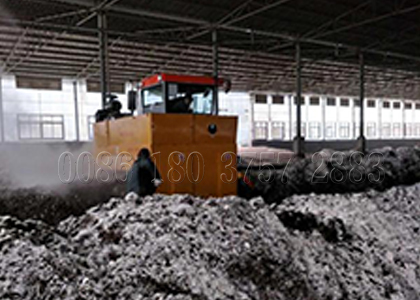 500 m3 per hour crawler type turning machine
Model: SXLDF-2300(can be customized)
Turning Width: 2.3m
Turning Height: 0.6-1m
Row Spacing: 0.8-1m
Power: 75kw
Bio moving type composting machine in small-scall
Shunxin specially manufactures this turner for bio organic fertilizer production. Under the four-wheel walking design, it can move forward, backward and turn around at random. Moreover, you only need to employ one person to control it, which will save you large amount of cost.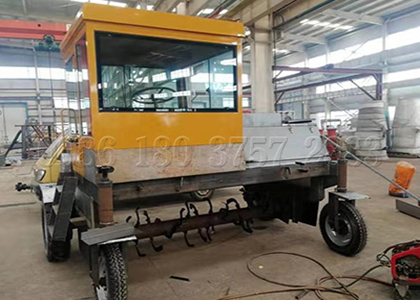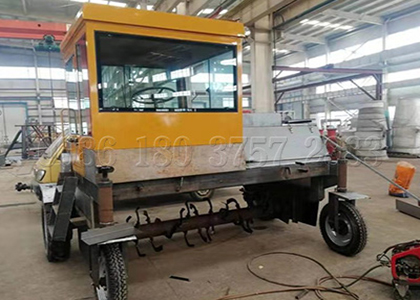 self propelled compost turner machine controlled by one person
Model: SX-300(can be customized)
Color: Yellow
Size: 1930×620×1660mm
Application: Turning organic wastes piles
Small-scale aerobic chain plate fertilizer turning machine
Like other composting windrow turner, chain plate turner is suitable for organic solid waste. Its walking system adopts frequency conversion speed regulation. Therefore, it has the characteristics of good adaptability to different materials and high turnover efficiency. If you want to expand the production scale, the only thing you need to do is to add the fermentation groove.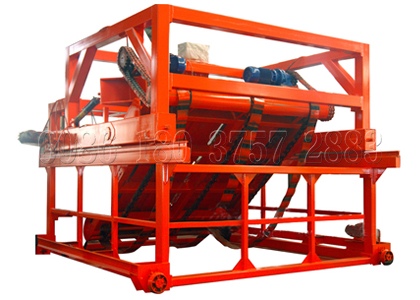 Small-Scale Chain Plate Type Compost Turner
Model: SXC-2(can be customized)
Total Power: 25kw
Composting Span: 2m
Moving Speed: 0-6m/min(adjustable)
Capacity: 50-100m3/h
If you have an idea of starting a small scale compost fertilizer plants, you can choose one of them for your business plne. Or, you can directly let our engineer design a dedicated manure compost turner. As long as you have problems in fertilizer equipment, you could contact us for solutions.
Who is the best small scale compost turner manufacturer in China?
About this question, the answer is certainly Shunxin Heavy Industry Co., LSX. and you can directly call it Shunxin. On the one hand, Shunxin has been manufacturing fertilizer making facility for more than 30 years. What's more, the company is famous with the quality of compost turner tool. Therefore, you do not worry about that our small scale composting equipment has any problems in quality. On the other hand, Shunxin invests large amount of funds to R&D department for making higher turners in every year. That guarantees the demand to advanced products of our clients. In addition, after you purchased our products, there is one year for free maintenance. During this time, if this compost turning machine has any problem, you can consult us in time. Shunxin's engineers are always here for servicing you at any time.
Do you want to get high quality organic compost turning machine for your own fertilizer plant?
The Lowest quotation of small scale compost turner from Shunxin Heavy Industry
It is no doubt that all the investors want to spend the least money for gaining good composting machines. There is a reliable company named Shunxin, which could supply you high quality small- scale compost turners in reasonable price. Firstly, Shunxin has its own factory. So, we are not only the seller, but we are the fertilizer equipment manufacturer. You do not worry that there are high commissions in the quotation. In addition, all our facilities adopt advanced technology. That is to say, compared with other company's same quotation, you can get higher quality small turning tool. Last, you should know the price is different in different configurations. When you pursue the low price, the quality should be taken into consideration.
Where you can find our popular small scale compost turner around the global market?
Founded in 1987, Shunxin Heavy Industry has established more than 30 years. And, the company has been the pioneer in fertilizer making facility industry. After decades development, Shunxin's small turning equipment is sale to all over the China, especially in Qingdao province and Neimenggu province. What's more, we are now gradually stepping into world market. Therefore, you can find our products in some large fertilizer factory of United States, Pakistan, Russia and so on. Recently in October, 2018, our excellent sales manager has built long cooperation relationship with a customer from Philippine who orders 4 small groove type windrow turners for his organic fertilizer plants. Thus, if you have interest, welcome to China for visiting our factory. Or you can tell us your detailed requirements by e-mail.