Organic waste is one of the most common waste, which contains large amount of organic substance. Moreover, organic waste is the main raw materials for making organic fertilizer. There is advanced organic waste to fertilizer machine for fertilizer manufacturing plants. Shunxin fertilizer making machine has large capacity. Besides it is easy to operate. Therefore, they can completely meet your requirements on your large-scale organic waste fertilizer production. In addition, it is available of customized waste fertilizer machine at factory price.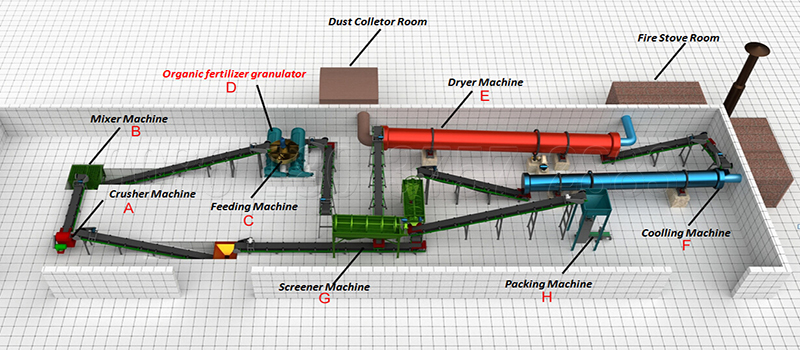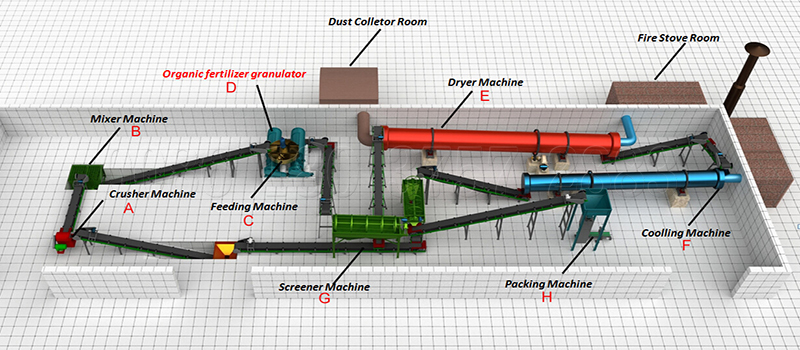 Shunxin complete organic waste to fertilizer machine for sale
Zhengzhou Shunxin Engineering Equipment Co., Ltd is founded in 1987 and has more than 30 years' experience in producing fertilizer equipment. Therefore, the company has a comprehensive knowledge about what is the customer's need. Moreover, according to decades' experience, Shunxin develops a series of high-quality fertilizer facilities for turning organic waste into fertilizer. So, if you want to transform organic waste into fertilizer, Shunxin provides you machines from material dewatering machine to fertilizer bagging equipment.
Shunxin's machinery is available to manufacture dedicated fertilizer machines for different types waste organic fertilizer production. You can not only use our machines for manufacturing organic waste into powdery organic fertilizer, but also for making organic manure waste into granular fertilizer. If you have interest in Shunxin waste fertilizer machinery, please feel free to inquiry us at anytime.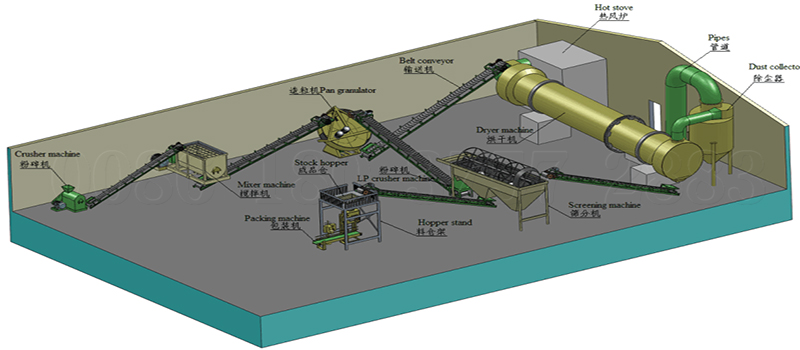 Efficient waste treatment machinery provided by Shunxin for turning organic waste into compost
Shunxin waste to fertilizer machine of making compost is a kind of fertilizer machinery for fermenting organic waste. The company manufactured several different compost windrow turners for fertilizer plants to make organic waste compost. They are different in capacity, range of application, working principle and so on. Here, Shunxin experts will respectively show them for your reference.
Large-scale composting machine of grooved organic waste to fertilizer machine
Firstly, there is groove type compost turner. You can use it for the fermentation of organic waste, livestock manure, sludge, etc. The span of Shunxin groove type turning machine is between 3 and 30 meters. And the height can be 0.8-1.8 meters.
Secondly, Shunxin provides the wheel type compost turner, with large span and high depth. As the same to groove type composting machine, you should build the groove for this fertilizer turner. Furthermore, our wheel turner machine has high degree of automation. That is to say, the compost turner can work without the need for an operator.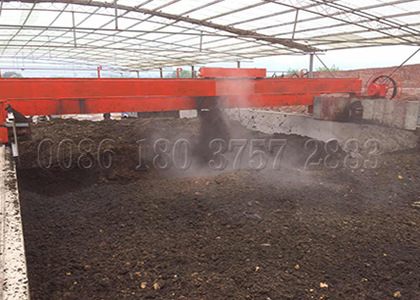 Wheel Type Compost Turner
Turning depth: 1.5-3m
Turning span: ≤30m
Advantages: Highly automatic, energy-saving…
Color: red(can be customized)
Application: composting organic wastes to fertilizer
Top choices of small-scale turning machine for composting organic waste
Shunxin forklift type compost turner is always the first choice of small-scale organic fertilizer producing. It could efficiently process all kinds of organic raw materials, such as: garbage, worse slag cake and straw sawdust. In addition, this fertilizer turner has strong function, which can turn, transship, mix, and crush the waste. What's more, it can be operated in the open air and workshop as well.
Shunxin dedicated self-propelled compost turner for manufacturing organic waste into bio organic compost
Our moving type compost turner is the main engine in the production of bio organic fertilizer special equipment. This machine adopts four-wheel walking design. It can move forward, backward and turnaround. Furthermore, it can be controlled by one person. You can apply it to microbial oxygen consumption fermentation.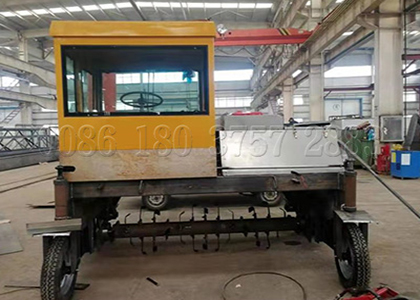 Self Propelled Compost Turner
Model: SX-300(can be customized)
Color: Yellow
Size: 4930×1620×2660mm
Application: Turning organic wastes piles
Feature: Also can be used as a forklift
Automated organic fertilizer fermentation pot of organic waste to fertilizer machine made by Shunxin for your waste compost making
The fermentation pot is suitable for the treatment of organic waste, poultry manure, mushroom waste, etc. Equipped it for your fertilizer plants, you can only spend 10 hours to complete the harmless treatment process. Moreover, it adopts the methods of closed fermentation. Therefore, there will be no pollution. And the fermentation pot just occupies an area of 10-30 square meters. Besides, according to customer requirement, Shunxin can customize 5-150 m3 different capacity and different forms of fermentation tank. If you have any need to fermentation equipment, please let us know.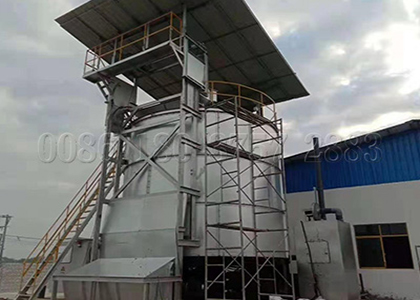 fermenter pot for organic waste recycling
Model: SXFJG-5
Heating Power: 24kw
Stirring Power: 7.5kw
Stirring Speed: 3(r/min)
Overall Size: 2200*2200*5300mm
How to make organic fertilizer from waste through organic waste to fertilizer machine manufactured by Zhengzhou Shunxin Engineering Equipment Co., Ltd ?
Like many other organic fertilizer manufacturing process, organic waste fertilizer will also undergo the fermentation process, crushing process, mixing process, granulating process, drying and cooling process, fertilizer screening and fertilizer packing process. Here you should know that if you plan to produce powdery organic fertilizer, there is no need of granulating, drying and cooling process. Then, the following is the details about how to make organic fertilizer from waste.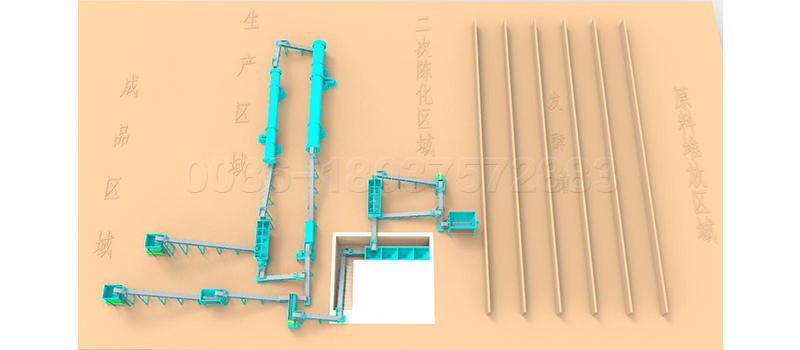 Organic waste fermentation
Fermentation is the first procedure of making organic fertilizer from waste. It is important to make a harmless treatment of organic waste for killing the pest eggs hidden in the organic waste. You should choose one of the above fertilizer compost turners, which can perfectly help you finish the waste fermentation.
Fermented organic waste crushing process
Although our turning machine has the function of crushing the organic waste, there also might be some cakes or block in the organic waste materials. So, for making better granular organic fertilizer, it is necessary to assemble a crusher for crushing the fermented waste into fine powder.
Crushed organic waste mixing process
After organic waste compost crushing, there is mixing procedure. Its main function is to mix the fine powder waste with the matched raw materials evenly. What's more, this process makes preparation for granulating organic waste into ball fertilizer. But, if you want to save investment, you can employ some labor forces in place of fertilizer mixer.
Organic waste granulating process
If you start to manufacture granular organic waste fertilizer, it is no doubt that this process is key procedure. During this process, the mixed waste materials will be put in to fertilizer granulating machine. Then the fertilizer pelletizing machine will make the powder waste materials continuously achieve the process of mixing, granulating, balling and densification in the machines. Based on decades production experience, Shunxin developed new type organic fertilizer granulator, pan granulator, and drum pelletizer , powder granulating machine for organic fertilizer manufacturers. If you have demands of fertilizer pelletizer, please contact us in your convenient time.
Organic waste fertilizer drying and cooling process
Organic waste fertilizer belongs to organic fertilizer, which generally adopts wet type granulation. Therefore, after granulation, the waste fertilizer need removing the moisture by fertilizer dryer. And as you know, the drying process rely on the condition of high temperature. Thus, after drying the organic waste fertilizer, you should use a fertilizer cooler to cut the fertilizer temperature down.
Organic waste screening process
During this process, you firstly need a fertilizer screening machine. The aim is to distinguish the qualified fertilizer and unqualified fertilizer. Then, the qualified waste fertilizer will enter to the next process. As for unqualified organic waste fertilizer granules, there is a little difference. One is the unqualified powder fertilizer, which will be returned to crushing machine again. Another is the unqualified granular waste fertilizer, which will be returned to fertilizer pellet machine.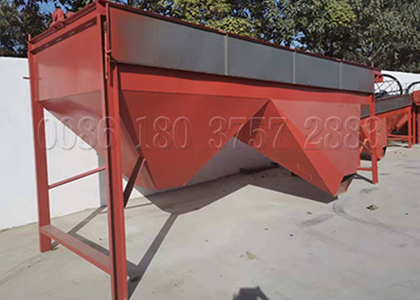 Rotary Screening Fertilizer Making Machine
Model: SXGS-2080
Power: 11kw
Reducer: ZQ450
Drum Speed: 12(r/min)
Capacity: 10-20t/h
Finished qualified organic waste fertilizer packing process
It is time to pack the organic waste fertilizer into bags. In the last step, Shunxin advises you to assemble an automatic fertilizer bagging machine. You can set up the capacity of a bag by yourself. Then the fertilizer packing machine will finish the packing work independently.
Shunxin could supply the whole organic waste to fertilizer machine for making organic waste fertilizer. If you have an idea of starting a waste fertilizer production line, please contact us. Our engineers will design the most suitable production machines for your fertilizer making project.