Pan granulator is one of the granular fertilizer making machines that is applied to make pellet fertilizer. Many granule fertilizer making plants apply pan pelletizer in manufacturing granular of organic fertilizer production line and compound fertilizer production line.
Shunxin has been engaging in fertilizer equipment production for more than 30 years. Thus, Shunxin Heavy Industry could manufacture high quality disc granulator machines. Using pan granulator made by Shunxin, the granulating rate can reach up to 93%, which can help you to enhance productivity.
Now, Shunxin will make an introduction about the fertilizer disc granulating machine for your reference.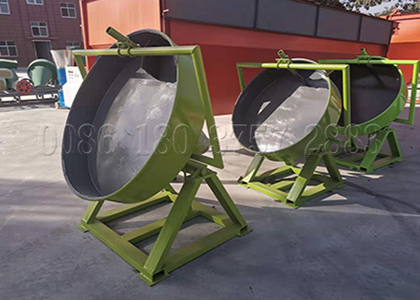 Disc Fertilizer Pelletizer
Model: SXYZ-2000
Edge Height: 350mm
Rotary Speed: 21(r/min)
Capacity: 1.2-1.5t/h
Total Power: 4kw
Dimension: 2260*1650*2250mm
What is the working principle with Shunxin pan granulator?
Firstly, there needs a conveyor to continuously and quantitatively put the mixed raw materials into the pan pelletizer from the above of the machine.
And then, you need to spray the adhesive to the rotary pan in process of granulating, because the pan fertilizer making machine belongs to wet granulation equipment. As the rotary pan continuously move, the pellet will gradually grow. With the pan continuously rotating, the disc pelletizer makes the powder fertilizer raw materials into fertilizer granule.
The large particles float above and then flow continuously from the underside of the disk. However, the small particles continue to rotate with the newly added powder fertilizer materials.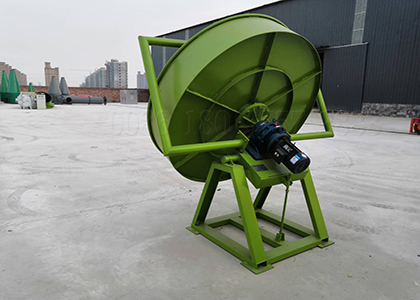 plate type granulation machine
Model: SXYZ-2000
Edge Height: 350mm
Rotary Speed: 21(r/min)
Capacity: 1.2-1.5t/h
Total Power: 4kw
Dimension: 2260*1650*2250mm
How many parts in a pan granulator design?
Generally speaking, a disk fertilizer granulating equipment mainly contains five parts. From the following contents, Shunxin experts will show you the details.
The granulating disc: It is one of the main parts of a pan granulation equipment. Shunxin Heavy Industry makes it with many steel plates and strengthen the pan bottom with a plurality of radiant steel plate, which is durable and not deforming.
Reducer: With the function of adjustment, a reducer in the pan granulation machine can change the speed in the processing of pellet making according to the requirement of capacity.
Motor: Like most of other machines, the disk granulator also equipes with a motor that provides the powder for machine rotating.
Scraper blade: It is assembled on the above of granulating disc, usually matching the material cleaner. The scraper blade is for avoiding the phenomenon that the raw materials will adhere to walls or block the discharging hole.
Braced frame: The braced frame is composed with main devices that support granulator disc such as the rack and base bracket. Here you should pay attention that the main frame should be placed flat, or the pan fertilizer making machine will not operate smoothly.
The above is the information about the design of a disc pelletizer. If you want more introduction, please feel free to send messages to us and Shunxin sales manager will contact you soon.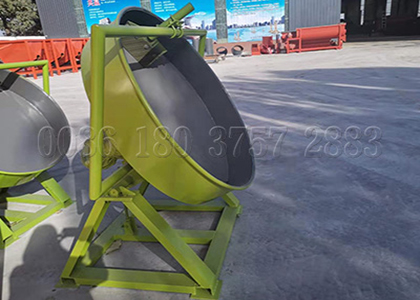 Disk Granulator
Model: SXYZ-1800
Edge Height: 300mm
Rotary Speed: 21(r/min)
Capacity: 0.8-1.2t/h
Total Power: 3kw
Dimension: 2060*1700*2130mm
Four great performances you can get with Shunxin disk pelletizer
Low cost. Shunxin Heavy Industry is a pan pelletizer manufacturer and has its own equipment processing factory. Thence, all the types of pelletizer are designed and manufactured by us. So, thedisc granular machine price you get from our company is factory price, without any agency fees. That means you can save a large amount of money to purchase other fertilizer machines.
Smooth operation. Disk pelletizer adopts the whole circular arc structure. The reducer and motor use flexible belt drive to start smoothly, slow down the impact force. And with thick, heavy and strong base, it is smooth operation.
High efficiency. The pan fertilizer granulating machine has three discharging ports, which is convenient for discontinuous production. That is to say it greatly reduce the labor intensity and improving the labor efficiency. Furthermore, the granulating rate can reach more than 93%, which also increase the production efficiency.
Never deformed. The disc bottom uses multiple steel plates and the main gear adopts high temperature quenching technology, which are firm and durable.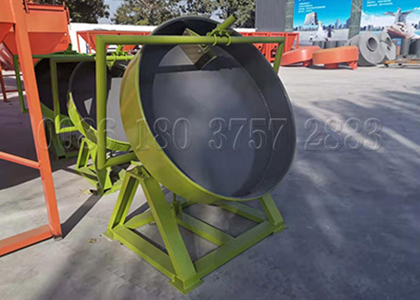 Disc Pelletizer
Model: SXYZ-800
Edge Height: 200mm
Rotary Speed: 21(r/min)
Capacity: 0.1-0.2t/h
Total Power: 1.5kw
Dimension: 900*1000*1100mm
How much is pan granulator manufactured by Shunxin Heavy Industry?
It is common that all investors will firstly ask what is the disc granulator machine buying price? Generally, pan pelletizer price is lower among all Shunxin fertilizer granulator. On the one hand, disc pelletizer has small capacity. Therefore, it is cheaper than the large-scale rotary granulator. On the other hand, the price is related to machine's configuration. That is to say, the larger capacity disc granulation equipment is absolutely expensive than smaller capacity. In addition, the price is also affected by quality. The better the quality is, the more you will spend.
Shunxin has good reputation in our clients and is a trustworthy seller. We have own large scale factory and all the fertilizer facility is produced by our professional workers. Therefore, the quotation you get from Shunxin is factory price. If you have interest in our pan granulating equipment, please contact for the latest quotation.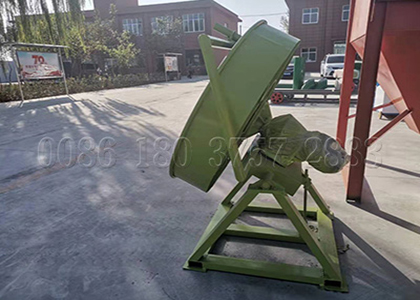 Pan fertilizer granulation machine
Model: SXYZ-800
Edge Height: 200mm
Rotary Speed: 21(r/min)
Capacity: 0.1-0.2t/h
Total Power: 1.5kw
Dimension: 900*1000*1100mm
Compared with other granulators, what are the advantages of a pan granulator?
Wide range of application. A pan granulator is not only suitable to organic fertilizer pellet production, but also can apply to compound fertilizer granule making. However, the double roller extrusion granulation machine is just for the compound fertilizer industry. And the new type organic fertilizer granulator is especially for making the organic fertilizer.
Taking up less space. The largest dimension of a pan granulator provided by Shunxin is 4100 * 2900 * 3800. What's more, under the same capacity circumstance, the disc granulator needs a relatively small space than the other fertilizer pelletizing facility, which can save investment cost. But if you choose a rotary drum granulator, the requirement of space is very large.
More optional types for you. Shunxin Heavy Industry manufactures 12 kinds of disk pelletizers in different models and configurations. The range of dimension is from 650 * 600 * 800 to 4100*2900*3800. Moreover, the capacity changes from 0.02 – 6 t/h, which could meet the different demands of the large scale, middle scale and small-scale fertilizer manufacturing plants.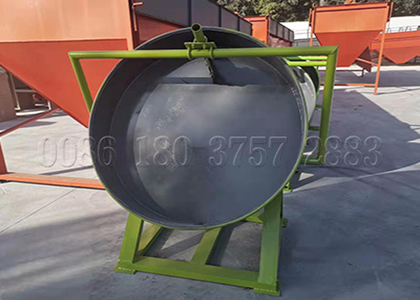 Pan Granulator
Model: SXYZ-1200
Edge Height: 250mm
Rotary Speed: 21(r/min)
Capacity: 0.3-0.5t/h
Total Power: 1.5kw
Dimension: 1200*14700*800mm
Shunxin Mini disc granulator for lab
Are you a researcher in fertilizer pellets fields of University or Research institute? And do you still worry about where you can get the mini disc pelletizer for your experiment? Here, Shunxin could provides you a series of mini pan fertilizer disc granulator. The minimum yield is the SXYZ-500, which capacity is 0.02-0.05 t/h. What's more, our mini disc granulator has also more than 93% balling rate and long service life. If you have demand to them, please let us know in time.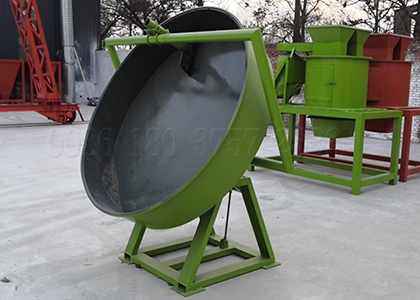 Mini disc granulator
Model: SXYZ-600
Edge Height: 280mm
Rotary Speed: 33.5(r/min)
Capacity: 0.05-0.1t/h
Total Power: 0.75kw
Dimension: 800*700*950mm
Some notices to you from Shunxin experts when you operate the pan granulator
It is forbidden that the raw materials contain substance of iron. That is because the iron will do damage to the pellet machine when disc is high speed rotating for granulation. Hence, before the granulating, please make a inspection carefully.
Remembering to put some butter on the rotating shaft. The butter will help the disc pelletizer better smooth operation and also is good to granulator maintenance.
Controlling the temperature and moisture in granulating. Shunxin professional experts suggest you pay more attention to the production temperature. It is an important factor, which will influence the granulation ratio.
Through the above detailed introduction, you now may have a deeper understanding to our pan granulator. As you have learned from the above contents, the disk type granulator manufactured by Shunxin has the characteristics: granule evenly, high granulating rate, durable, less cost and long-life service and so on.
Besides, Shunxin Heavy Industry also manufactures rotary drum granulator, new type organic fertilizer pelletizer, double roller extrusion granulator. If you are interest in our products, please contact us directly, please tell us your demands any time.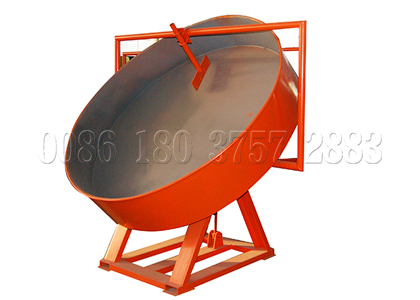 Disc granulating machine for fertilizer granules making
Model: SXYZ-600
Edge Height: 280mm
Rotary Speed: 33.5(r/min)
Capacity: 0.05-0.1t/h
Total Power: 0.75kw
Dimension: 800*700*950mm
Reliable & Reputation pan granulator supplier: Shunxin Heavy Industry Co., Ltd.
Are you still select good supplier of disc granulator China? If your answer is Yes, there is a perfect choice for you. That is Shunxin Heavy Industry Co,. Ltd., usually called for short as Shunxin.
Firstly, the company has more than 30 years' experience in disc granulating equipment production. Therefore, we could meet all the detailed requirements in pan granulator design.
Secondly, Shunxin has professional technical engineers, who specially solve all kinds of problems from our clients in using pan pelletizer. So, you can get perfect solutions from Shunxin experts.
Thirdly, Shunxin provide the service of Installation and Maintenance for free in one year. That is to say, as long as you meet difficulty, Shunxin is always here to service you.
All in all, Shunxin is the pioneer in fertilizer pelletizer manufacturers. In addition to pan granulating facility, there are drum pelletizer, chicken manure granulator, NPK compound pelletizer, etc. So if you have needs in granulating equipment, welcome to contact us at any time.