Rotary drum granulator for sale
Rotary granulator is a molding machine that can make raw materials to a specific pellet shape. It is one of the key granulating machines manufactured by Shunxin Heavy Industry, which is a crucial equipment in the compound pellet fertilizer production line. Rotary drum granulator adopts the way of wet type granulation that means you should make your raw materials contains 25% to 30% moisture. Among Shunxin all the kinds of granulating equipment, the rotary drum pellet making machine has the largest capacity that can reach 30 tons per hour. Therefore, Shunxin rotary drum granule processing machine is the first choice to the pellet fertilizer production manufacturers in domestic and abroad market, especially for large scale granulation manufacturing business plan. Equipped our rotating granulator in organic or compound fertilizer production line, your productivity will be greatly improved.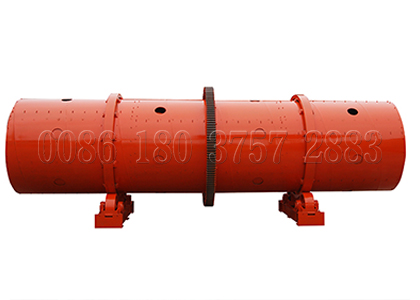 large-scale drum pelletizer
Model: SXZGZ-3210
Power: 37kw
Diameter: 3200
Installation Angel: 2°-5°
Rotary Speed: 9.5(r/min)
Capacity: 15-30
Shunxin perfect design of rotary drum granulator for you
With advanced technology design, it promises the high quality.
Shunxin uses the best quality steel to manufacture the rotary drum granulating machine, which is durable and extend the service life.
Employing the rubber plastic for lining, it avoids the raw materials stick to the inside of cylinder.
Shunxin rotary drum granulating machine will not discharge waste to environment that means you should not purchase waste disposal equipment.
Achieving the function of automatic cleaning, Shunxin eliminates the traditional device of scraper blade.
If you have demand of fertilizer pelletizer, please feel free to contact us. Then our sales manager will send you the latest information.
Five parts in a rotary drum granulator granulator
Bracket section. It plays a fundamental role, which provides support powder for the whole machine. Therefore, Shunxin employs the medium carbon steel plate to build the bracket. In addition to there are lifting hooks at the four corners of the bracket, which is convenient for customers unloading.
Drive part. It is one of the main parts in a rotary drum pelletizer. The drive part assembles motor and speed reducer, controlling the speed of raw materials rotation in granulated process.
Heavy gear ring. Being fixed on the cylinder body, it matches the transmission pinion.
Rolling belt. The same with heavy gear ring, rolling belt is also fixed on the cylinder body to support the main body.
Cylinder body. It is the key part in a rotating granulator, which is mainly for granulating. Welded with special rubber lining or stainless-steel lining, Shunxin rotary drum pellet equipment is more durable.
With thirty years production experience, Shunxin Heavy Industry carefully designs each part and try our best to present the high-quality machines for the clients. If you have any problems, please feel free to contact us and our experts will make a reply as soon as possible.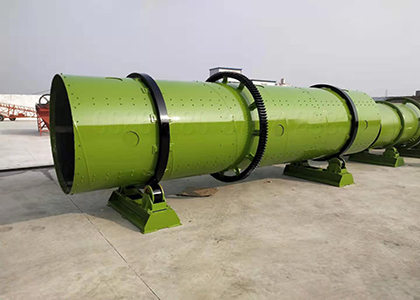 Rotary Granulator
Model: SXZGZ-1560
Power: 11kw
Diameter: 1500mm
Installation Angel: 2°-5°
Rotary Speed: 17.5(r/min)
Capacity: 3-5t/h
Advanced features of Shunxin rotary drum granulators
The fertilizer products made by Shunxin rotary drum particle producing machine is high quality with the features of more beautiful in appearance and not easy in abrasion.
Shunxin rotary drum granulator could realize waste-free process, which conforms to the requirements of ecological civilization.
High granulating rate. There is more than 70% manufacturing granule with using Shunxin rotary drum pelletizer. Furthermore, the particle size of the returned material is small and granulating machine will pelletize returned materials once more.
Large capacity. As you can see, our rotating granulator could realize the productivity of 30 tons per hour. Hence, Shunxin Heavy Industry has the competence to help you achieve the purpose of mass production-scale.
Easy to operate and maintenance. Shunxin provide you granulating machine that is convenient to make post maintenance.
How does the rotary drum pellet equipment work in making granule?
The rotary drum granulator mainly adopts the wet granulation working principle. Before the beginning of granulation, you should firstly add certain amount of water or steam to the base fertilizer. Then after the raw materials mix wet in the cylinder, there will be a series of fully reacted in chemical way. And last, under certain liquid condition, the rotating motion of the cylinder starts to make a material particle get squeezed together into balls. It is perfectly available for pelletizing organic substance like vermicompost pellets, food waste granules, cow manure fertilizer pellets.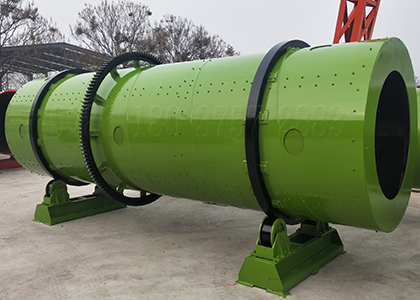 rotating granulator
Model: SXZGZ-2080
Power: 18.5kw
Diameter: 2000
Installation Angel: 2°-5°
Rotary Speed: 11(r/min)
Capacity: 8-15t/h
Six notices in operating the rotary drum granulator from Shunxin Heavy Industry
In order to help you to correctly use the rotary granulation equipment, Shunxin Heavy Industry provides the following six suggestions for fertilizer makers.
When the granulator is running, you should prohibit anyone entering into the under of the machine body.
while you plan to make the internal inspection and repair, please confirm that the rotary drum granulated equipment is not in operation.
When the granule machine is running, it is not allowed to remove the protecting devices.
Without insulated gloves, you should not the motor and wires.
Under the condition of no perfect grounding line, it is forbidden to start the rotary granulator. What's more, if there is current on the equipment, you should stop it immediately until it is repaired completely.
When you are checking the rotary drum granule facility, do not carry the mobile light over 12V.
The following picture is a kind of small rotary pelletizing machine. You can use it to your small scale organic fertilizer production or compound fertilizer granules making. If you have interest in our fertilizer granulating equipment, welcome to visit Shunxin factory at any time.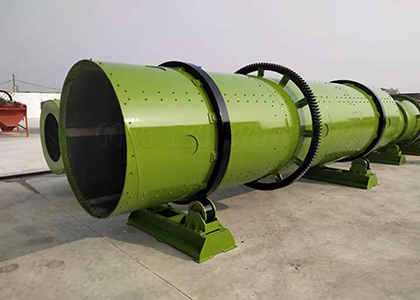 Small scale rotary drum granulator
Model: SXZGZ-1240
Power: 5.5kw
Diameter: 1200mm
Installation Angel: 2°-5°
Rotary Speed: 17(r/min)
Capacity: 1-3t/h
Differences between rotary drum granulator and disc pelletizer
As you know that both the rotating granulator and the disc pellet making machine employ the ways of wet type granulation. However, there is also some difference as follows:
Different range of capacity. Disc granulator capacity varies from 0.02t/h to 6t/h, while the rotary drum pelletizer is from 1t/h to 30t/h. if you start a relatively small pellet fertilizer production line, you can choose a disc granulator for your plant.
Different granular ratio. The rate of rotating granulator can reach more than 70% and the pan granulator is up to 93%.
Needing different auxiliary materials in working process. In pellet processing, the rotary drum granulator just needs certain amount of water or steam for the basic fertilizer fully chemical reaction in the cylinder. With the rotating motion of the cylinder, the material particles produce squeeze pressure agglomeration into balls. However, when you manufacture granulated fertilizer with a pan-type granulator, there will prepare some binding agent for granulation.
Rotating pelletizer is mainly for large scale compound fertilizer production line. However, the disk pelletizer is both useful to organic fertilizer and compound fertilizer making line.
What is the rotating granulator price from Shunxin?
Generally, the price of drum pelletizer is relatively higher than pan or new type organic fertilizer granulator. On the one hand, Shunxin rotary granulator has the largest granulating rate, which could finish 30 t/h fertilizer granules production. On the other hand, the company rotary drum granulation machine is available both organic fertilizer and compound fertilizer. In addition, its capacity is from 1 t/h to 30 t/h. That is to say, how the production scale is, there is a suitable drum granulating facility for you.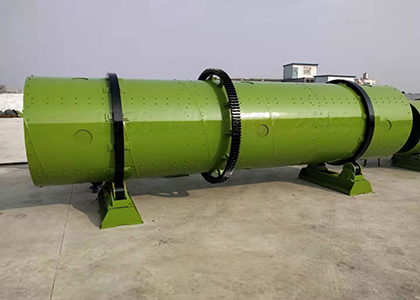 Middle capacity rotary drum granulator
Model: SXZGZ-1870
Power: 15kw
Diameter: 1800mm
Installation Angel: 2°-5°
Rotary Speed: 11.5(r/min)
Capacity: 5-8t/h
Shunxin Heavy Industry: Reliable and Reputable drum granulator manufacturers in China
If you want to choose a reliable supplier in rotary drum granulator, Henan Shunxin Heavy Industry Co,. Ltd. is an ideal choice. The company was founded in 1987 and has more 30 years in manufacturing fertilizer making machines. You will find compost turners, crushing machines, fertilizer granulators, fertilizer drying machine and many complete fertilizer production lines. what's more, our customers are from all over the world, especially in Pakistan, India, United States, and Spain. They give the highest praise to our fertilizer equipment. In addition, if you choose our company, there will be one year maintenance of machinery for free. Furthermore, there has a big discount, if you make a big order.
After reading the above contents, you must have a better understanding about the distinction of rotating granulator and pan granulator. No matter which one you choose for your production line, Shunxin can meet your needs. What's more, Shunxin's experts are able to design customized products according to your demands. Please feel free to contact us, if you are interest in Shunxin rotary drum granulator.