What is powder granulator machine in fertilizer industry?
Simply speaking, powder granulator machine refers to the equipment that makes powder materials into granules. Thus, in fertilizer industry, the powder pelletizer is used to process fertilizer powder materials into fertilizer pellets. Shunxin designs four powder granulating equipment. They are new type organic powder pelletizer, powder drum granulator, pan powder processing equipment and powder extrusion granulation facility. It is available for you to process chicken manure powder, cow dung powder, food waste powder, vermicompost powder and so on.
What's more, Shunxin 4 powder granules making machines have high balling rate and low energy consumption. Hence, equipped with Shunxin fertilizer granulator, your fertilizer pellets production productivity will get a great improvement. If you have demand in powder processing equipment, please contact us in time.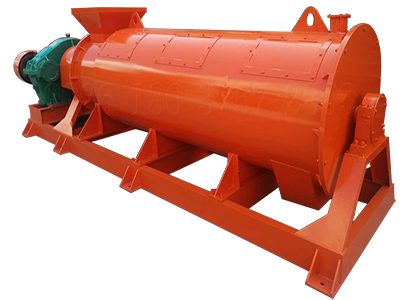 New type organic powder granulator machine
Model: SXJZ-600
Installation Angle: 2°-2.5°
Capacity: 1-1.5t/h
Total Power: 37kw
Dimension: 4100*1600*1150mm
Application: making organic pellet fertilizers
Which Shunxin powder granulator machine is the best choice for your fertilizer granulation process
In a general, Shunxin powder pelletizing equipment has three types. One is dedicated for granulating organic powder materials. And another is specially for make compound fertilizer pellets like, NPK powder. The last type has wider application, which could perfectly meet the granulation requirements of organic and compound powder materials. Now let us to show the details of Shunxin 4 powder pelletizer.
97% New Type Organic Powder Granulation Equipment for Sale
Shunxin new type granulator is newly designed model, which is only applied to organic fertilizer production line. If you choose this type powder granulating facility, your materials can be poultry manure, livestock manure, grass manure or other organic powder materials. Besides, the fertilizer pellets made by new type granulator has higher compressive strength, which is conducive to long-term storage.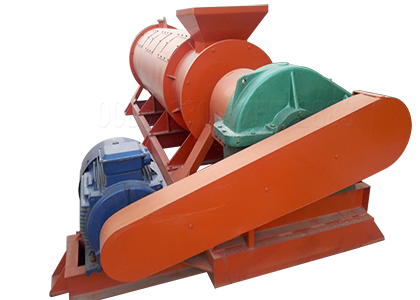 97% balling rate new type powder granules making machine
Model: SXJZ-1200
Installation Angle: 2°-2.5°
Capacity: 4-6t/h
Total Power: 90kw
Dimension: 4900*2550*1800mm
Moisture of feeding material: 20%-40%
Dry Granulation: Shunxin double roller extrusion powder granulator for sale
As for this granulation equipment, you can also directly call it extrusion powder pelletizer. Completely different from the new type powder granulator machine, it is just for compound fertilizer pellets production like NPK granules. In addition, this double roller granulating equipment adopts the dry granulation. That means you should control the moisture in your powder materials between 5% and 10%. What's more, the roll sheet could be customized. That is to say, you could produce all kinds of shapes fertilizer pellets.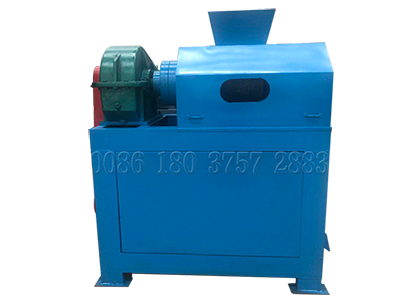 Double roller powder processing machine
Model: SXJZ-1T
Power: 11-15kw
Granule Diameter: 3-10mm
Roller Sheet Size: 150*220mm
Dimension: 1450*800*1450(mm)
Color: red(can be customized)
Shunxin Powder Granulator Machine: Both application in organic fertilizer pellet and compound fertilizer pellets
Small scale pan powder granulating equipment for sale
Pan granulator for granulating powder materials has 93% balling rate. It has 3 discharging ports, which is convenient for discontinuous production. Compared with other granulators, it is more suitable for small-scale fertilizer production line. Because, its largest capacity is 4-6 t/h. Therefore, if you do not want to invest large-scale, the disc pelletizer is your best choice.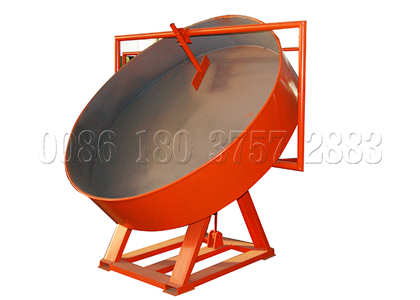 Small-scale pan powder pelletizer
Model: SXYZ-800
Edge Height: 200mm
Rotary Speed: 21(r/min)
Capacity: 0.1-0.2t/h
Total Power: 1.5kw
Dimension: 900*1000*1100(mm)
Large scale powder rotating granulator for making fertilizer granule for sale
The same as pan granulator, it is available for organic and compound fertilizer granule production. Furthermore, our drum pelletizer has the largest capacity among the 4 types powder granulator machine. Shunxin powder drum pelletizing machine could finish 30 t/h capacity. In addition, your raw materials should contain around 30% moisture during granulating fertilizer powders.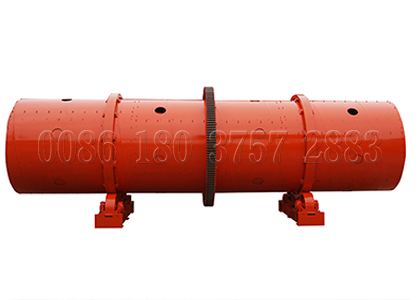 Large-scale powder rotating granulator
Model: SXZGZ-3210
Power: 37kw
Diameter: 3200mm
Installation Angel: 2°-5°
Rotary Speed: 9.5(r/min)
Capacity: 15-30t/h
How to make granular fertilizer from powder granulator machine manufactured by Shunxin Heavy Industry?
As for the working principle, there is also little different among the 4 kinds of granulating equipment. Firstly, the new type organic granulating equipment, pan pelletizer and rotating granulator belong to the wet granulation. However, the double roller extrusion powder granulator adopts the dry granulation technology. On the other hand, the 4 powder granulating facilities is different in utilizing pelletizing force. Except for double roller extrusion pelletizer using extrusion force, another three powder granulators equipment makes use of centrifugal force. Now let us respectively talk about the two types working principle of Shunxin powder granulator machine.
Shunxin machines for powder processing into granule with centrifugal force working process
Firstly, you should prepare conveyor belt for constantly delivering fertilizer powder materials into fertilizer granulating machine.
Then, there needs some water or binder, which will help to pelletize powder material together quickly.
Next, under the action of centrifugal force, the fine powder materials will continuously achieve the process of mixing, granulating, balling and densification in the machine.
In the end, the finished fertilizer granules will come out from the discharging ports.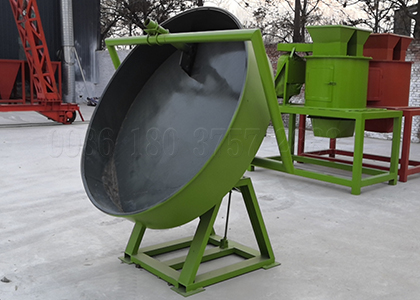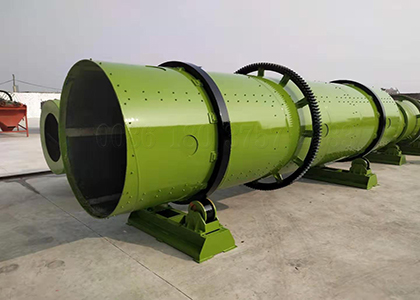 Powder granules making machine with extrusion force working process
On the beginning, similar to powder granulator with centrifugal force, the fine powder should be sent into the machine. Therefore, it is necessary for you to assemble the conveyor belt for your fertilizer plants. Secondly, the roller inside of double roller granulation facility will mix your powder materials again in case of there being cakes. And then, the fine powder will enter into the granulating process. There are two roller sheets, which will extrude your fine powder into a piece of specific shape. Next, the bottom blade will crush the piece into granules. Finally, the finished granules will be sent out of the machine from the outlet.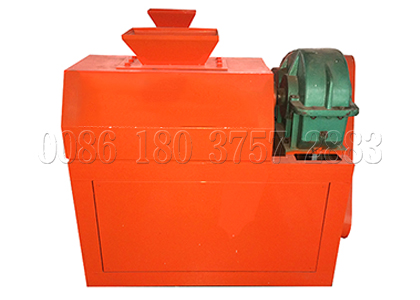 Dry granulation of roller powder pelletizer
Model: SXJZ-3T
Power: 37-45kw
Granule Diameter: 3-10mm
Roller Sheet Size:300*300mm
Dimension: 1850*1100*205050(mm)
Color: red(can be customized)
Seven stunning performance you can enjoy from Shunxin powder granulator machine
High granulating rate. All the four granulators have more than 93% balling rate. Especially, our new type powder granulating facility has 97% granulating rate.
Easy to operation. Shunxin adopts advanced technology. And each machine has the characteristic of high automatic.
High quality. Our motors for powder pelletizing machine are from German. And all the steel is high-wear special alloy.
Long service life. Shunxin high-quality products promise the long service life.
Providing customized service. If you have special requirements to the powder granulating machine, our experts will design the sample for you.
Saving energy consumption. Shunxin pelletizer conforms to ecological requirements. Therefore, all our powder granulator machine is low consumption of energy.
Wide application. You can use our powder granulator to all kinds of organic fertilizer production line, like bio-organic fertilizer and organic food waste fertilizer.
Except for powder granulating facility, what machines do you need for assembling a complete granule fertilizer production line?
In a general, the powder pelletizing machine is the key equipment in granule fertilizer production. But you also need other matching machine for making higher quality fertilizer pellets. There are two choice for you.
If you choose wet granulation method for your organic fertilizer production such as pan or drum pelletizer. There needs composting equipment, crushing equipment, fertilizer mixer, fertilizer dryer, fertilizer cooler, screener and fertilizer bagging equipment.
However, if you plane to make compound fertilizer and choose dry granulation like double roller granulator. The machines are relatively less than organic fertilizer production line. Commonly, you should prepare crushing facility, fertilizer mixing equipment, fertilizer screener and fertilizer packing machine. You may want to ask why there is no fertilizer drying and cooling machine. That is because, our roller pelletizer could granulate powder materials at a room temperature.
At the end, if you want to start your granular fertilizer business, please feel free to contact us. Our sales manager will provide you the latest quotation.