What is the bio organic fertilizer production line?
In general, bio organic fertilizer production line is a kind of organic fertilizer production line. To be honest, bio organic fertilizer production line refers to produce bio-organic substance into fertilizer. Therefore, bio-organic fertilizer is a kind of microbial fertilizer. It refers to a combination of specific functional microorganisms and organic materials. Generally speaking, that are mainly derived from animal and plant residues and are harmlessly treated and decomposed. It possesses the effect both bio fertilizer and organic fertilizer. The microorganism in the bio-organic fertilizer can promote the soil and stimulate the crop to growth. Besides bio organic fertilizer could reduce the crop diseases. Now bio-organic fertilizer as emerging fertilizer is constantly becoming the central of fertilizer industry and agricultural consumption.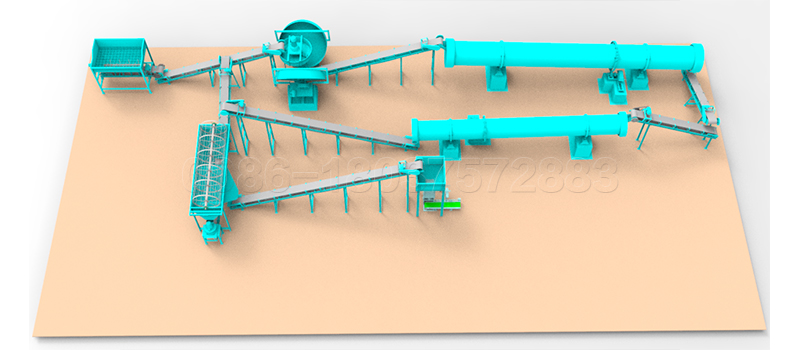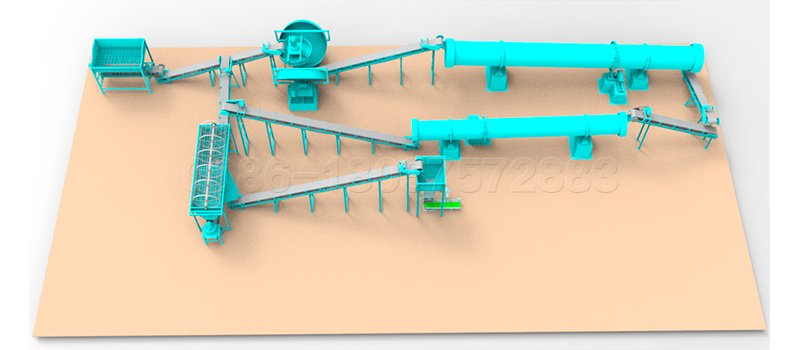 Shunxin bio organic fertilizer production line
Our bio organic fertilizer production line can process many raw materials, such as the livestock and poultry manure and agricultural waste like crop straw. What's more, our bio organic fertilizer manufacturing line could provide the capacity of 30000-50000 tons per year. Most of the equipment are automatic, which help you finish highly the automated manufacturing. In addition, Shunxin has the professional R&D team and could offer the support to installation and maintenance.
We have our own processing plant. And each machines used for the bio organic fertilizer production is designed and manufactured carefully. In terms of quality, it is highly recognized by the bio organic fertilizer manufacturers in India, America, Philip and many other countries.
Common raw materials for making bio organic fertilizer
The raw materials usually chosen by bio fertilizer plant manufacturers are as follows:
The agricultural waste: straw, rice, soya bean, etc.
Industrial waste: alcohol residue, sugar residue, vinegar residue, etc.
Animal manure: the chicken manure, cow dung, sheep, etc.
Others: sewage sludge, food waste and so on.
According to bio organic fertilizer formulation, all the above materials could be processed into bio organic manure by Shunxin bio organic fertilizer production line.
What types of bio organic fertilizers you can make with Shunxin bio organic fertilizer production line?
Based on rich experience, Shunxin has produced many types complete machines for making bio organic fertilizer according to the customer's demands. Here are the following several types:
With the variety of raw materials, there are rhizo bium bio fertilizer production line, bio organic fertilizer for sugarcane processing line, bio-organic foliar fertilizer production line.
Take the bio organic fertilizer for sugarcane production line as an example. The basic manufacturing process is crushing the raw material, mixing the material and bacterial agent, granulating, drying and cooling, screening and metering package. In the whole procedures, it is very important to control the temperature in the drying and cooling. Shunxin manufactures fertilizer equipment, with high automation, which can highly accurate measurement.
Rhizobium bio fertilizer production process: Commonly speaking, rhizobium bio fertilizer refers to a fertilizer that add the rhizobium agent to bio fertilizer. Except the difference of processing rhizobium agent, the other procedures are almost to generally bio fertilizer, which concludes the fermentation, crushing, mixing, granulating, cooling and drying, screening and packing.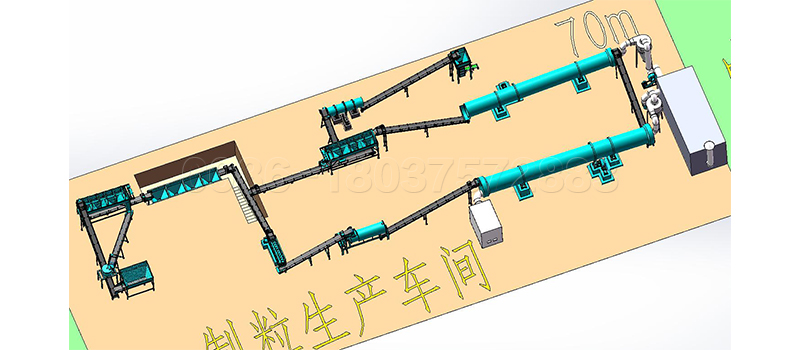 Granular bio fertilizer manufacturing and powdery bio fertilizer making
According to the different shape of bio organic fertilizer, we could provide the granular bio organic fertilizer production line and the powder bio organic manure processing line. In general, the former and later processing of the two types is same concluding fermentation, crushing, mixing, screening, and packing. However, the only difference is that granular bio organic fertilizer increase a procedure, the granulating process. Hence, it is the key part to choose fertilizer granulating equipment, because different form of granulating has the different requirements to the raw materials. So except the granular machinery, other machines for bio fertilizer plant manufacturers can be applied to both the two types.
How to make bio organic fertilizer by using bio organic fertilizer production line?
As you know, the bio organic fertilizer refers to the use of live stock and poultry manure as the main materials, utilizing the technology of biochemical processes and microbial technology to decompose organic matter. Therefore, the bio fertilizer manufacturing process are the fermentation process, crushing process, mixing process, granulating process, screening process, and packing process.
Fermentation process: fermentation means that using the metabolic activity of microorganisms to decompose organic matter in materials. What's more, it can make materials stable and harmless. In the course of fermentation, the fertilizer manufacturers often get help from compost turners. Shunxin provides you groove type compost turner and self propelled composting machine for you to speed the fermentation.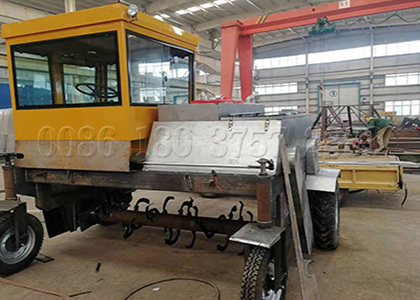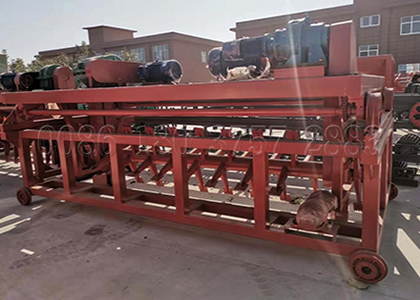 Crushing process: crushing mainly makes preparation for the granulating. The finer the material is smashed, the easier the granulation is. At present, Shunxin has developed fertilizer crushers like semi-wet material crusher, cage crusher and new type vertical crusher for you to choose.
Mixing process: before granulation, bacterial powder containing microbial active bacteria need mixing uniformly with the organic materials. Here, you can use Shunxin fertilizer mixing machine. Especially, our double shafts horizontal mixer can spend less time to finish mixing procedure.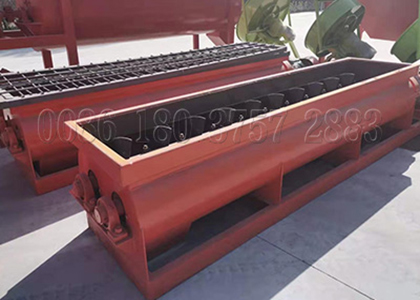 Fertilizer Double Shaft Horizontal Mixer
Model: SXSJ-1050(can be customized)
Dimensions(mm): 6200×1300×1200
Motor power(kw): 22
Speed Reducer Model: ZQ500-31.5
Mixing Speed(r/min): 35
Granulating process: In fact, this process is to produce the pre-treated raw materials into fertilizer pellet. Disc granulator adopts the whole circular arc structure, and the granulating rate can reach more than 93%. it is an ideal equipment for bio organic fertilizer manufacturer.
Drying process: the moisture content generally is 26% to 30% while the specification of finished products is under 14%. Therefore, there need a drying machine like rotary drum drying machine to meet the demands of bio organic fertilizer production.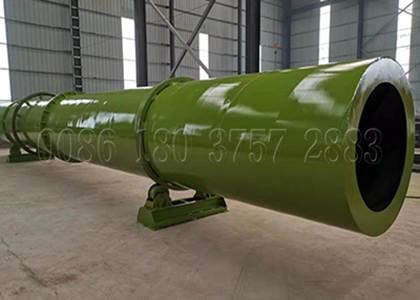 Drying machine for bio organic fertilizer granules processing
Model: SXHG-1515
Power: 11kw
Capacity: 4-6t/h
Rotating Speed: 6(r/min)
Installation Angle: 3°-5°
Shunxin machines for you to make bio fertilizer from food waste
Where there are people, where there is food waste. As you know, food waste is produced everyday. The food waste contains large amount of organic matter, which can make a kind raw materials of bio organic fertilizer formulation. Before becoming a fertilizer, the manufacturers need to process the food waste. Shunxin can provide a complete equipment for fertilizer manufacturers to process food waste.
The new type vertical crusher is a kind of adjustable crusher machine and is a patent product of our company. It has strong application to higher moisture material and not easy to block. Furtheremore, the material discharging is smooth.
Double shafts horizontal mixer is used to mix the food waste, microbial agent and other materials.
Disc granulator has three discharging ports, which is convenient for discontinuous production, greatly reducing the labor intensity and improving the labor efficiency.
The auxiliary equipment are the conveying facility, batching machine, coating machine. You can find all the facilities in Shunxin industry.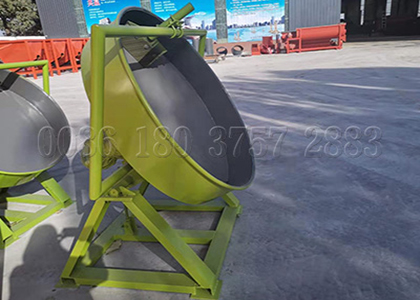 Disk Granulator
Model: SXYZ-2500(can be customized)
Diameter of Disc(mm): 2500
Edge Height(mm): 450
Dimensions(mm): 2900×2000×2750
Capacity(t/h): 1.5-2.0
Make your own quality bio compost organic fertilizers with various types of turning machines in Shunxin
First of all, the organic waste is rich in N, P, K and organic matter. Meanwhile, there are many pathogenic microorganisms and parasites. If you don't take measures for harmless treatment to these organic waste, it not only will do bad to the environment but waste resources. By fermentation, it can effectively kill pathogens and deodorize, and achieve the harmlessness of organic waste. In order to promote the sustainable development of agriculture, the pile fermentation of organic materials is essential.
Shunxin has been committing to research and develop machines for the bio organic fertilizer. Over many year's operation, Shunxin has groove type compost turner, wheel type compost turner, forklift type compost turner, crawler type compost turner.
Four types fertilizer compost turner for bio organic fertilizer production line
Groove type compost turner
It also names rail type compost turner. It adopts to the fermentation of livestock manure, sludge and garbage, worse slag cake and straw sawdust and other organic wastes. Therefore, the machine widely apply to organic fertilizer plant. The spans can be between 3 and 30 meters and the height can be 0.8-1.8 meters.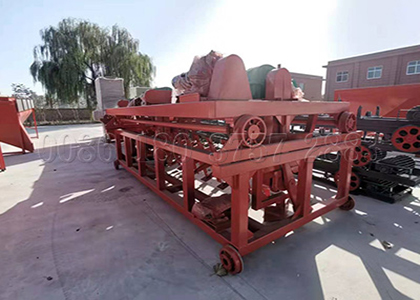 Groove type turner for compost making
Model: SX-3000(can be customized)
Main Power: 18.5kw
Mobile Power: 1.5kw
Lift Power: 1.1kw
Application: Turning the compost on the groove
Wheel type compost turner
The fertilizer compost turner is suitable foe the fermentation with large span and high depth of livestock manure, filter mud from sugar mill, etc. Compared with the traditional turning equipment, it has the advantages of high turning depth, large turning span, low energy consumption and high degree of automation.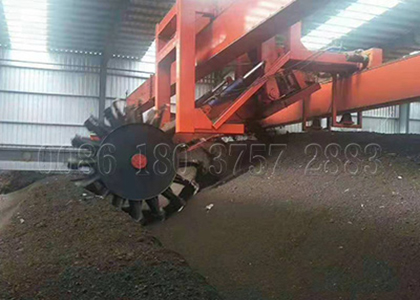 Wheel Type Compost Turner
Turning depth: 1.5-3m
Turning span: ≤30m
Advantages: highly automatic, energy-saving…
Application: composting organic wastes to fertilizer
Forklift type compost turner
It is suitable for the fermentation of small scale. It has four functions: turning, transshipment, mixing and crushing and it can be operated in the open air and workshop as well. The unique hydraulic design makes the driver open and close the feeding port of the flip bucket in the cockpit.
Crawler type compost turner
Crawler type compost making machine is the most economical mode of saving soil and human resource at present. The materials need to be piled up into a stack, then the material is stirred and crushed at regular intervals by the crawler type compost turner. It saves the site, artificial, diesel, shorten the working time and advance the fermentation cycle.
All the above compost making machine is the patent product of our company. They can help the organic materials to quickly fermentation, save the time cost and help the bio fertilizer manufacturers enhance the production efficiency. The compost turner has a wide range of models and the function configuration is uneven. If you want to know more about our products, welcome to contact us anytime.
Benefits farmers can get from manufacturing bio organic fertilizer for their plants
Improve crop yields and quality. On the one hand, bio-organic fertilizer overcomes the defect of single and unbalanced fertilizer supplying. Besides, it pays attention to the the complementary combination of organic nutrient, inorganic nutrient and bio nutrient.
Saving energy. Bio organic fertilizer takes the organic waste of the agriculture and industry as the raw material. The secondary utilizing of the waste for bio manure production not only save the energy but stimulate the development of bio fertilizer production technology.
Protecting the environment. The implement of bio fertilizer production project fully uses the waste, which prevent the organic waste from stacking randomly.
More better than the traditional fertilizer. To be honest, bio organic fertilizer contains more nutrients than single traditional fertilizer such as: nitrogen, phosphorous, potassium, sulphur, hormones, enzymes, etc. And the bio organic fertilizer is comparatively on cost inputs and are light on the pockets of farmers.