What does the fertilizer making machines do?
Fertilizer making facility belongs to agriculture machine. It is a kind of machinery for processing fertilizer for increasing the nutrients of farmland. Recently, various fertilizer equipment is emerging in the market for meeting the different needs of crops. According to different raw materials, there is the organic manure making machine, compound fertilizer making machine and BB manure manufacturing equipment.
Of course, Shunxin Heavy Industry is the experienced fertilizer handling equipment manufacturer and could make all kinds of fertilizer machines for the manure processing plants. These machines could help you to greatly improve the efficiency of fertilizer production. Now, we can provide the whole set of fertilizer facilities for the organic fertilizer production line, compound fertilizer production line, BB fertilizer production line and bio organic fertilizer production line.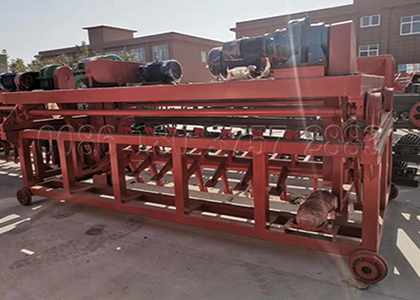 Fertilizer Groove Type Compost Turner
Model: SX-3000
Main Power: 18.5kw
Mobile Power: 1.5kw
Lift Power: 1.1kw
Application: Turning the compost on the groove
When establishing a fertilizer plant, Shunxin provides efficient fertilizer making machine you need
Shunxin Heavy Industry is a specially fertilizer equipment company and has 30 years' rich experience. If you want to start a business in fertilizer production industry, our company could supply you the most suitable facilities. With the different fertilizer production procedures, here is the corresponding equipment. Commonly speaking, the main manure making equipment is as follows:
Fertilizer compost turner
It is one of the important machines in fertilizer production line. When organic substances ferment, the turners can accelerate the speed and improve the quality of fermentation. Shunxin designs 6 types compost turners for you to choose. They are groove type composturner, self propelled compost turner, wheel type turning machine and so on.
Fertilizer crusher
No matter which fertilizer you want to produce, all the raw materials need crushing. It is an indispensable facility. Shunxin supplies several kinds of crushers. Especially, the semi-wet materials crusher and the cage crushers is very popular with the customers.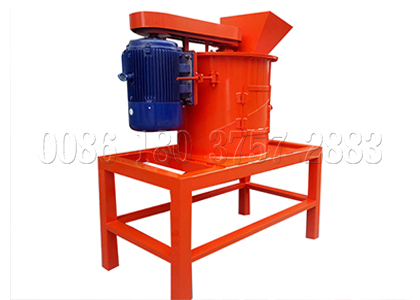 New Type Vertical Fertilizer Crusher
Model: SXFLF-600
Power: 22kw
Capacity: 3-5t/h
Size of Feed Port: 400*400mm
Overall Size: 1300*750*1900mm
Fertilizer mixing equipment
After the materials crushing, you 'd better to mix all the raw materials for making the fertilizer granule. Now, Shunxin have 5 different mixers such as the horizontal mixer, BB fertilizer mixer, and disc mixer. These fertilizer mixers will make the materials evenly.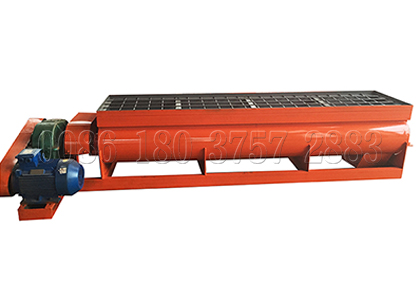 Fertilizer Double Shaft Horizontal Mixer
Model: SXSJ-8030
Power: 11kw
Mixing Shaft Outer Diameter: 420mm
Stirring Speed: 35(r/min)
Dimension: 3700*800*750mm
Fertilizer granule making machine
It is the key equipment in the fertilizer making machine, especially for the manure granular production line. It is used to make the powder fertilizer into granule fertilizer. there you can find 5 different models of manure granulator. Such as: pan granulator, rotary drum granulator, cow manure fertilizer pellet machine, which all is high quality.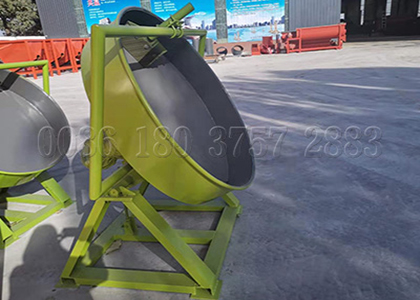 Granule Fertilizer Making Machine
Model: SXYZ-500
Edge Height: 200mm
Rotary Speed: 32(r/min)
Capacity: 0.02-0.05t/h
Total Power: 0.55kw
Dimension: 650*600*800mm
Fertilizer dryer
It is assembled behind the granulation equipment and removes the moisture beyond the standard from the finished fertilizer granular. Our rotary drying machine is efficient.
Fertilizer cooler
Our rotary cooler could quickly cool down the temperature of the hot fertilizer.
Screening machine
The function of this machine is to screen the fine finished fertilizer into the next procedure and the unqualified fertilizer will return to granulator. Shunxin develops rotary screening machine and vibrating screening machine. They can accurately screen the unqualified fertilizer.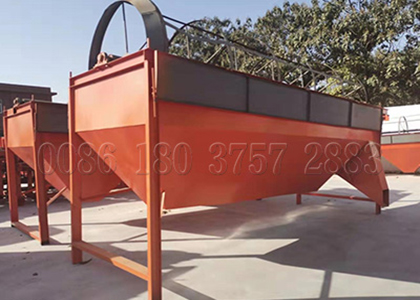 Rotary Screening Fertilizer Making Machine
Model: SXGS-2080(can be customized)
Power(kw): 11
Reducer Model: ZQ450
Drum Speed(r/min): 12
Capacity(t/h): 10-20
Automatic packing machine
Shunxin's experts specially design the automatic quantitative packing scale for quantitative packaging. Automated design will reduce labor intensity.
Here, you should notice that if you choose to make powdery fertilizer, the fertilizer granulation machine is unnecessary for your fertilizer plant. All the Shunxin's fertilizer machines have many different configurations and models. When you purchase one of our facilities, please carefully read the instruction or contact us.
What's more, in order to make your fertilizer production line more complete, Shunxin also provide auxiliary equipment. For example, we have dewatering machine, fertilizer coating equipment and convey equipment.
Fertilizer Bagging Equipment
Model: SXH-50
Function: packing and weighing materials
Weight: 500kg
Voltage: 380v
Packing Speed: 3-4bags/min
Degree of Automation: fully automatic
Shunxin's high quality fertilizer making machine with low cost
Founded in last century, Shunxin Heavy Industry has been devoting itself to making agriculture machine, especially the fertilizer equipment. At present, we have many professional engineer teams and technical workers. Therefore, our facility possesses first-class quality and can be used for a long time.
When it comes to the cost, the quotation list provided by Shunxin is EXW price because we are factory outlet. You could directly pay a visit to our factory and watch our fertilizer machines. Then you can make the decision which facility you want.
How to choose suitable fertilizer making machine for producing perfect manure?
To make high-quality fertilizer, there are many aspects you should pay attention to. The following is Shunxin's advice for you.
Firstly, you should make a market research and confirm the aim that is which fertilizer you are going to produce.
Secondly, due to the fertilizer granulators, and compost turners may not adopt to all the materials. Thus, the raw materials will influence you to choose the machines.
Thirdly, it is the most important factor that is the fertilizer production technology, which will decide the fertilizer equipment you will choose.
Fourthly, the production scale is also a point that you need to take consideration.
Advanced fertilizer making machine from Shunxin in domestic and overseas market
With rich manufacturing experience, our products are widely recognized by the customers. Over the past development, Shunxin has occupy the most of the domestic market, especially in the province dominated by agriculture and animal husbandry such as: Henan province and Qinghai province. At the same time, Shunxin Heavy Industry establishes the foreign trade department to sell our fertilizer facility in the overseas market. Based on high-quality and good service, our organic fertilizer machine and compound fertilizer equipment is very popular with the abroad market, such as the India, America, and Australia.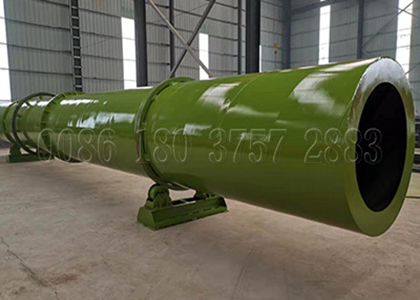 Fertilizer Dryer
Model: SXHG-0808
Power: 5.5kw
Capacity: 1-2t/h
Rotating Speed: 6(r/min)
Installation Angle: 3°-5°
Why our clients cooperate with Shunxin Heavy Industry the leader of fertilizer making machine suppliers in China
30 years' producing experience. Shunxin was founded in 1987 and engaging in manufacturing agriculture equipment.
Multiple equipment models. Shunxin is able to supply the whole set of machines for the fertilizer plant. Furthermore, there are many types and configurations for your reference.
Professional engineers. We employ many professional staffs in design department and production department. That makes sure our products are made in advanced technology from the beginning to the end.
Fist-class quality. All our workers are strictly trained before they start to make fertilizer facility. What's more, at the beginning, Shunxin's experts will make a site instruction.
Good after-sale service. Shunxin provide a free maintenance for one year. During this time, if you meet any troubles in operating the machines, our engineer will help you solve it.
Support customized equipment. Many of our customers have ordered our customized the machines from Shunxin Heavy Industry. Therefore, as long as you provide the sample to us, Shunxin's experts will try their best to design the ideal fertilizer machines for you.