Shunxin 5 Types Fertilizer Mixing Equipment for Your Fertilizer Production
Fertilizer mixer machine is a part of the fertilizer production line. To be honest, it is applied to blend your all kinds of fertilizer raw materials into a uniform state. Over the past more than 30 years, Shunxin designs 5 different types fertilizer mixing equipment for fertilizer plants. In a general, the 5 fertilizer blending machines can be divided into two types: organic fertilizer mixer and compound fertilizer mixer.
Only the BB fertilizer blending equipment is dedicated for mixed compound fertilizer production line. However, the single shaft fertilizer mixer, double shift horizontal mixer, disc mixer and the common horizontal mixer could perfectly meet the requirements of all kinds of organic fertilizer production line.
Commonly speaking, no matter which fertilizer mixer, there are three main parts: feeding port, blending body and discharging port. Each part has its own advantages. Moreover, each type of fertilizer blending machine has different models and configurations. Therefore, you could select the most suitable according to the scale of fertilizer production. Thus, if you have any demand to mixing equipment, please contact us for the latest quotation.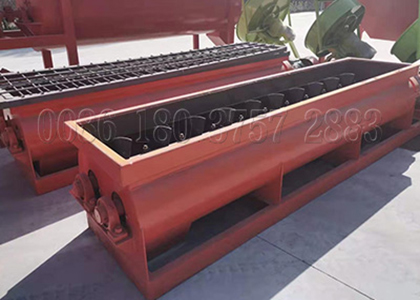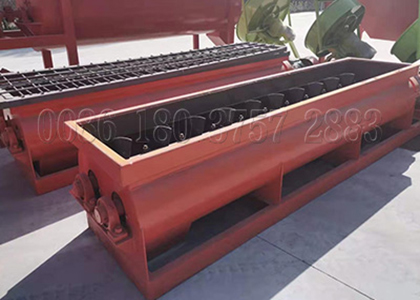 Quickly & Uniformed fertilizer mixing equipment manufactured by Shunxin Heavy Industry
Just now, you have learned that there are two types fertilizer mixing facilities. One is to blend the organic fertilizer materials. The other is for blending compound fertilizer materials. Here, Shunxin experts will give you more detailed information about the 5 different mixer machines.
Wide application organic fertilizer mixer machine for sale
As you know, organic fertilizer includes many types, like bio-organic fertilizer, cow dung organic fertilizer, food waste organic fertilizer, etc. What's more, each organic fertilizer needs several raw materials. So, you need an organic mixing machine to mix them together. If you choose organic fertilizer production, Shunxin provides you the following 4 choices about fertilizer mixing equipment. You can use them to mix chicken manure, cow manure with straw, soil and other ingredients evenly.
Low cost horizontal mixer
This type fertilizer mixer machine belongs to traditional mixer. On the one hand, during the horizontal mixer working, the organic materials are operated by two opposing rotors and the compound motion is carried out. On the other hand, the slurry drives the material to rotate counterclockwise along the inner wall of the machine groove. That will form a weightless area in the machine. So, the horizontal mixer could achieve fast and soft mixing uniform effect.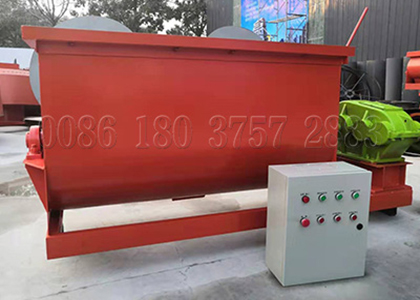 Horizontal fertilizer mixer
Model: SXWG-1630
Power: 22kw
Mixing Speed (r/min): 21
Capacity: 10-15t/h
Application: mixing pellet fertilizers
Single shaft organic fertilizer powder blending machine
Shunxin single shift mixer is suitable for continuous mixing in mixed powder fertilizer. Generally, you need to assemble it behind the automatic batching equipment. As for the working principle, it mainly uses the screw force to stir all sorts of organic fertilizer materials uniformly.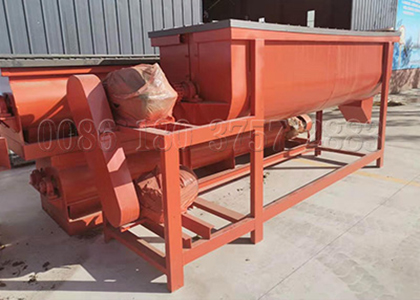 Single Shaft Organic Fertilizer Powder Blending Machine
Model: SXSJ-7030
Power: 11kw
Stirring Speed: 54 r/min
Overall Size: 4000*950*1600
Color: Red (can be customized)
Double shafts horizontal organic mixer
From the name, you may know it is similar to single shaft mixer. However, you should know that it is the upgraded version made by Shunxin Heavy Industry. Although the appearance and working process is similar, its capacity is twice than single shaft mixing machine. In addition, the area that double shafts mixer needs is larger than single shaft fertilizer mixer. Therefore, if you want to expand your organic fertilizer production scale, it is an ideal choice.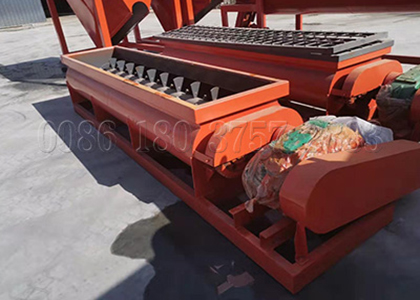 Double Shaft Horizontal Fertilizer Mixing Equipment
Model: SXSJ-1050
Power: 22kw
Mixing Speed: 35 r/min
Dimensions: 6200*1300*1200
Application: mixing all sorts organic fertilizer materials
Great performance of disc fertilizer mixing machine
Generally, you can also name it vertical fertilizer mixing machine. And Shunxin disc mixer is a newly product, especially for organic fertilizer production line. Compared with double shafts mixer, it occupies less area. What's more, the sealing between each combination surface is tight, which guarantees the machine runs smoothly. The capacity changes from 2 to 12t/h. You can choose one of them according to your condition.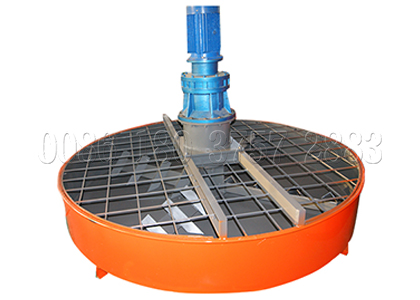 vertical disc mixer
Model: SXPG-2000
Power: 7.5kw
Mixing Speed: 16 r/min
Capacity: 4-6t/h
Application: mixing all sorts organic fertilizer materials
Shunxin Dedicated compound fertilizer mixing equipment: BB fertilizer mixer for sale
Different the other 4 mixers, BB fertilizer mixer is a special one. It is dedicated for BB fertilizer production line. Firstly, it overcomes the mixtures chromatography and distributaries phenomena caused by different proportion of raw materials. Therefore, it has high accuracy of dosing. Besides, the BB fertilizer mixer solves the influence on system caused by mechanical vibration, air pressure, and cold weather. Furthermore, it has long service life and high speed.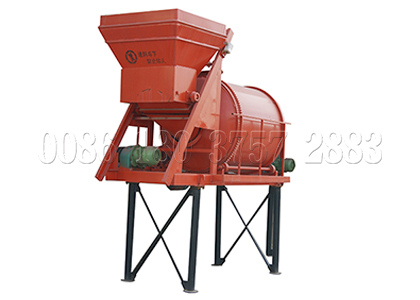 BB Fertilizer Mixing Equipment
Model: SXBM-1525
Power: 5.5kw
Lift Power: 1.5kw
Capacity: 5-10t/h
Application: mixing pellet fertilizers
All the above 5 fertilizer mixing machines are available of customized model and configuration. So, if you have interest, please feel free to inquiry us in time.
What working principle does Shunxin fertilizer mixing equipment adopt?
When it comes to working principle, Shunxin 5 fertilizer mixing machines adopt two kinds of working principle. One utilizes the force by shaft rotating to uniformly mix all kinds of fertilizer materials according to certain proportion. This principle is used by horizontal mixer, double and single shaft horizontal mixer and the disc mixer.
Another refers to the BB fertilizer mixer, which is different from other 4 fertilizer mixing machines. In fact, it belongs a kind of rotary fertilizer mixer. Hence, BB fertilizer mixing facility makes use of the gear to drive the drum body. Then the inner spiral structure will evenly mix fertilizer materials like NPK mixture.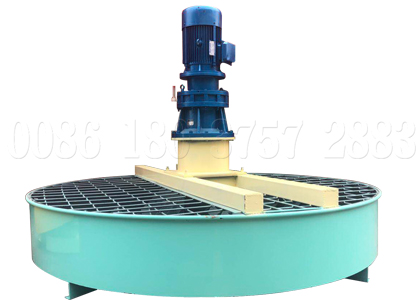 Disc Mixer
Model: SXPG-1600
Power: 7.5kw
Mixing Speed: 16 r/min
Capacity: 2-4t/h
Dimensions(mm): 1600*1600*1800
How much will cost you on the fertilizer blending mixer, if you buy it from Shunxin?
After knowing the above information, the first question you want to ask is how much the fertilizer mixing equipment. It is understandable that you want to know the price. But you should know that the price is not fixed. Whether the cost is high or low depends on the quality. That is to say, if you want to buy high-quality fertilizer mixing equipment, the price is relatively higher.
In addition, the exchange rate is also a factor that influence the price of Shunxin fertilizer powder blending machine. However, although Shunxin adopts all the advanced parts for a mixer, it is available for you at the factory price. Because Shunxin has its own factory, we make our own fertilizer equipment. Therefore, if you have demand in fertilizer mixing facility, Shunxin will be your ideal choice. And we are always here and welcome to visit Shunxin Heavy Industry at any time.
For fertilizer mixing equipment working better, what auxiliary machine do you need?
In order to guarantee the accuracy of fertilizer mixture, it is better to assemble the batching machine. In a general, Shunxin batching machine has two types: dynamitic automatic batching machine and static batching machine. The two kinds of machine have PID regulation and alarm function, which could perfectly control the mixing accuracy of raw materials. Moreover, automated design not only promise the accuracy but also save your labor forces.
Here, you should pay attention to the BB fertilizer mixer. If you choose mixing machine for your BB fertilizer production, you only to select the static batching machine. That is because there is a dynamic feeding funnel to deliver the raw materials into the inner of BB fertilizer mixer.