Shunxin popular fertilizer drying machine
As name suggests, fertilizer drying machine is to dry pellet or powder fertilizer. Simply speaking, it is used for removing moisture from fertilizer. Shunxin developed rotary drum fertilizer dryer for fertilizer plants. Except for drying organic fertilizer, you can use our rotary fertilizer drying machine to dry steel plant slag, power plant slime and sewage treatment plant sludge, etc. In addition, Shunxin rotary drum dryer has many different types. Such as: poultry manure drying machine, cow dung drying machine, chicken manure dryer machine, sludge dryer. They play important role in organic fertilizer production line and cow dung fertilizer production line to dry pellet or powder fertilizer.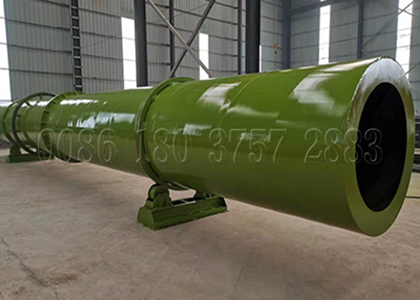 Fertilizer Drying Machine
Model: SXHG-1515
Power: 11kw
Capacity: 4-6t/h
Rotating Speed: 6(r/min)
Installation Angle: 3°-5°
Which location you should install Shunxin fertilizer drying machine in pellet and powder fertilizer production line?
In powder fertilizer production line
As you know, powder fertilizer production line is relatively simple. It mainly includes material fermentation, material crushing, material mixing and fertilizer packing. Therefore, if you plan to increase a fertilizer dryer in powder fertilizer production line, it is suitable on behind of fertilizer crusher or fertilizer mixer. That is to say, you can use fertilizer drying machine after materials crushed. Or you could assemble it before fertilizer packing machine.
In pellet fertilizer production line
For making pellet fertilizer, it is more complexity than powder fertilizer. However, the location for fertilizer rotary dryer is only on behind of fertilizer granulator. It is less flexibility than in powder fertilizer production line.
Notice:
If your fertilizer pelletizer is extrusion granulator, it is unnecessary to install fertilizer dryer in your pellet production line.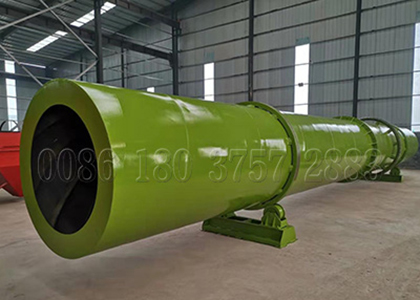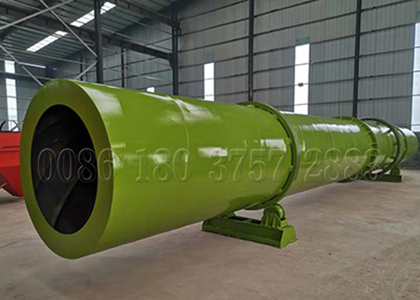 Fertilizer Dryer
Model: SXHG-0808
Power: 5.5kw
Capacity: 1-2t/h
Rotating Speed: 6(r/min)
Installation Angle: 3°-5°
Remarkable advantages of rotary fertilizer drying machine made by Shunxin Heavy Industry
Wide application. Shunxin rotary drum dryer is not only for drying fertilizer, but also apply to dry slag, clay, limestone.
Multiple specifications. Shunxin provides 9 rotary fertilizer dryer for meeting different demands of small, middle, and large fertilizer plants.
High output. You can dry fertilizer at the capacity of 18 t/h by using Shunxin fertilizer drying machine.
Stable operation. Shunxin chooses high quality steel for producing the base of fertilizer rotary drier.
Energy consumption is low. Tonda's rotary drum dryer is mainly driven by electronic, less gas or fuel.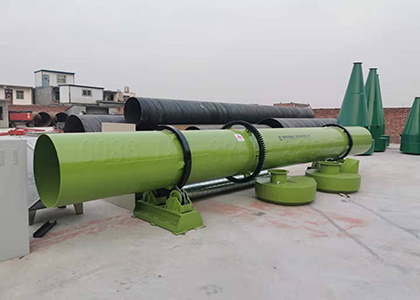 Organic Fertilizer Dryer
Model: SXHG-2222
Power: 37kw
Capacity: 8-16t/h
Rotating Speed: 5.5(r/min)
Installation Angle: 3°-5°
How does Shunxin fertilizer drying machine effectively remove moisture from materials?
When you begin to dry fertilizer by a fertilizer drying facility, the fertilizer drying process includes inputting materials, drying materials, and outputting materials. Now Shunxin takes "how to dry cow dung fertilizer?" as an example to show details.
Firstly, it is no doubt that you should start the heating equipment for providing heat source.
Secondly, there needs a conveyor to deliver the wet cow dung materials into drying cylinder. Then under the function of an induced draft fan, the hot air generated by the hot-blast stove or the burner will move quickly in the drying drum. In this process, the cow dung fertilizer will lose moisture quickly.
Thirdly, you need assemble a cyclone dust collector. Because some fine dust may appear during drying cow dung.
Finally, the dried cow dung will be output from the discharge ports. And the exhaust fan will exhaust air and water vapor out of the drum part.
Equipped with Shunxin fertilizer drying machine, your fertilizer production will be more efficient. Therefore, if you have any need, please contact us.
Auxiliary equipment for a fertilizer drying machine produced by Shunxin
Do you want to dry your fertilizer quickly and effectively? Here, I must tell you a truth. It is not successful just relying on a rotary fertilizer drying facility. In other words, you need match other collocation fertilizer equipment with fertilizer dryer. To be honest, they are cyclone dust collector, hot blast furnace and burner.
Burner
Burners are the main devices of providing heat source. Natural gas burner is a facility of burning natural gas. In addition, Shunxin also has the dual-purpose burner, which is oil and gas burning machine. What's more, both of them are the ideal fertilizer drying machine. And they conform to the demands of environmental protection.
Hot blast furnace
Hot blast furnace is also a kind of heating equipment. From the appearance, it is different from burner. Shunxin hot blast is look like a confined room. And Shunxin lines hot blast furnace with manganese steel plate and the inner lining is firebrick. It is convenient for users to hoist and install at any time.
Cyclone dust collector
This fertilizer auxiliary machine is the collection of dust caused by the fan in the drying process of organic manure and compound fertilizer. Therefore,out of protecting environment, Shunxin suggests you install a cyclone dust collector in your fertilizer production line.
Detailed components of Shunxin fertilizer drying machine
A complete rotary fertilizer dryer machine should contain the following parts:
Cylindrical drum part
Front roller
Rear roller
Gear
Blocking roller
Carrier roller
Pinion
Discharge part
Speed reducer
Motor
Belt
Among the above detailed components, the cylindrical drum part is key component. It is main place that fertilizer with moisture is dried. The quick-wear parts include pinions and belts. Generally speaking, you need to change the pinions and belts of your drum dryer machine every half a year. If you maintain them in a proper way, you can use them for a longer time. For your information, you can also communicate with our sales to ask if they can provide you a set of quick-wear parts for free or in quite low prices.