Shunxin compost machine for sale
In order to improve the environmental quality, more and more countries pay attention to how to deal with the waste without causing pollution. Now, here is the good news that the compost making machine could make the organic wastes into organic fertilizers. To be honest, compost turner is one type of composting equipment. Under the aerobic conditions, it can help the microorganism to quickly decompose the organic wastes in the fermentation process by mixing the raw materials.
In addition to continuously mix the organic matter, compost turners also play an important role in crushing the caked materials. Shunxin compost facilities are dedicated for organic fertilizer plants. You can assemble Shunxin's composting turner both indoor and outdoor. Our compost fertilizer machines have the features of wide application, advanced technology. At present, we have manufactured many different types of compost making machines. Hence, our composting turners could meet all requirements of different organic fertilizer production lines.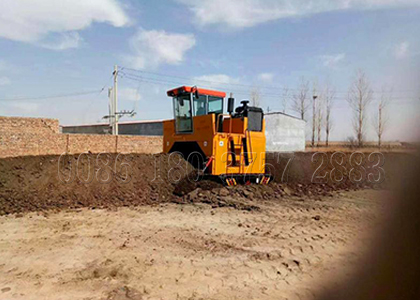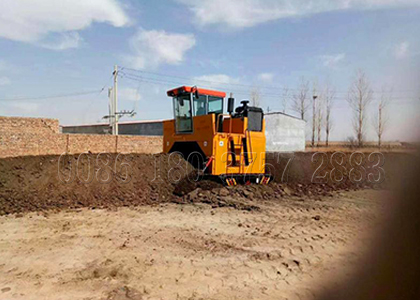 Compost Making Machine
Model: SX-300
Color: Yellow(can be customized)
Size: 4930×1620×2660mm
Application: Turning organic wastes piles
Feature: Also can be used as a forklift
Six kinds of High-Tech compost making machines manufactured by Shunxin for compost fertilizer making plants
For meeting the demands of customers, there are 6 types compost fertilizer making equipment for fertilizer manufacturers. Among of them, several need the groove like groove type composting turner, wheel type compost turner and chain plate type composter turner. The other do not build the groove, such as: moving type compost turner, crawler type compost turner and forklift type compost turner. Furthermore, Shunxin compost machine has its own perfect performance and different configurations. Now the following contents, Shunxin will respectively make a instruction for your reference.
Many configurations of groove type compost turner
Groove type composting turner also called rail type compost turner, possesses three national patents, which is widely used in organic fertilizer plants. The spans can be between 3 and 30 meters and the height can be 0.8-1.8 meters. Shunxin also provides double- groove type and half-groove type to meet the needs of different customers.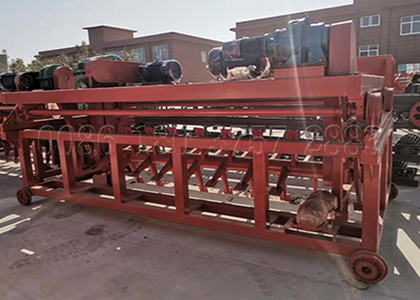 Groove Type Compost Turner
Model: SX-3000(can be customized)
Main Power: 18.5kw
Mobile Power: 1.5kw
Lift Power: 1.1kw
Application: Turning the compost on the groove
Large-Scale wheel type compost turner
Wheel type compost turner is the patent product of our company, which is suitable for the large span and high depth of fermentation groove. It adopts unique energy efficient transmission mechanism. Thus, the energy consumption of the same operating volume is 70% lower than that of the traditional turning equipment.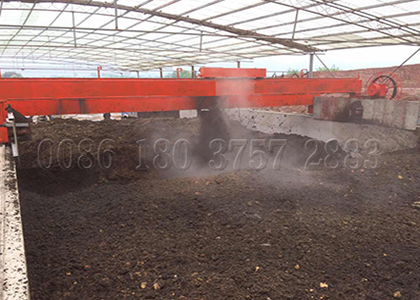 Wheel Type Compost Turner
Turning depth: 1.5-3m
Turning span: ≤30m
Advantages: Highly automatic, energy-saving…
Color: red(can be customized)
Application: composting organic wastes to fertilizer
High-Adaptability chain plate type compost turner
Chain plate type compost making machine has the characteristics of good adaptability to different materials, smooth operation, high turnover efficiency and deep groove operation. What's more, optional transfer vehicle can realize the use of multi-groove equipment. And you could expand the production scale with adding the fermentation groove.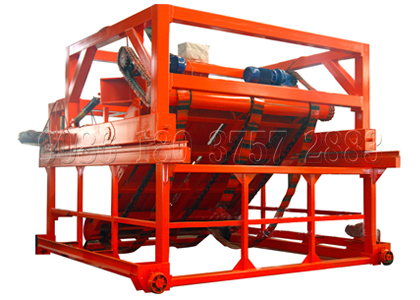 Chain Plate Type Compost Turner
Model: SXC-2(can be customized)
Total Power: 25kw
Composting Span: 2m
Moving Speed: 0-6m/min(adjustable)
Capacity: 50-100m3/h
Advanced technology moving type compost turner
self propelled compost turner (or named self-moving type compost turner) is a special equipment produced by Shunxin. It is main equipment in bio organic fertilizer production line. The composting machinery takes four-wheel walking design. It is convenient for a person to control this machine to move forward, backward and turn around.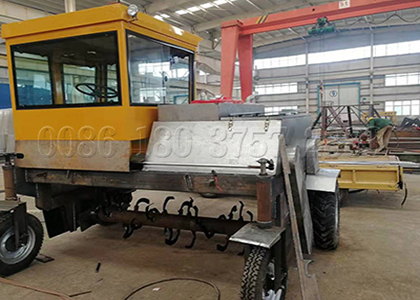 Self Propelled Compost Turner
Model: SXM-240(can be customized)
Compost width: 2600 mm
Compost Height: 800-1200 mm
Moving Speed: 4.5-5.5 (adjustable)
Application: Turning organic wastes piles
Color: Yellow
Low cost crawler type compost turner
Crawler type compost turner belongs to the ground pile fermentation mode, which is the most economical mode of saving soil and human resources at present. Here you should first employ some labors to pile up the materials into a stock. And then the turning machine will stirs and crushes the organic materials at regular intervals.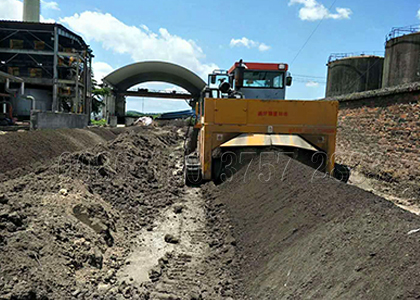 Crawler Type Compost Turner
Model: SXLDF-2300(can be customized)
Turning Width: 2.3m
Turning Height: 0.6-1m
Row Spacing: 0.8-1m
Power: 75kw
Forklift type composting equipment is generally used for the small-scale organic fertilizer production line. The new type technology is dedicated to the process requirements of microorganism aerobic fermentation materials. It can effectively mix the viscous fermentation materials and microbial fermentation agentia well.
How much Shunxin's efficient compost making machine price is?
Where can you get the most favorable price from compositing equipment manufacturers? The first recommendation is Henan Shunxin Heavy Industry. Our composting machinery price is not constant but changes with the different types. Comparatively speaking, the wheel type composting equipment and the groove type turning machine are more expensive. Because both of them are large capacity and have multiple functions. And the forklift type compost turner is relatively cheaper than the others. What's more, even in the same type, the compost making machine in large specification is a little more expensive than in small specification. However,W no matter which one you want to purchase, Shunxin will give the reasonable price. If you are interest in our products, welcome feel free to send inquiry to us.
Shunxin wide application compost making machine for fertilizer production
Under the aerobic condition, the fertilizer manufacturers can widely use our compost production machines in making organic waste into high nutrient organic fertilizer. Shunxin compost making machine could apply to the organic waste fermentation of livestock manure, sludge and garbage. What's more, there are filter mud from sugar mill, worse slag cake and straw sawdust and other organic wastes. Except for processing all kinds of organic wastes, Shunxin's compost equipment is popular with the organic fertilizer plants, compound fertilizer plants, horticultural farm and bisporus plant for fermentation and the removal of water. Installing these composting turners in your chicken manure organic fertilizer production line, cow dung organic fertilizer production line and so on, it is easy to highly improve the fertilizer production efficiency for your fertilizer plants.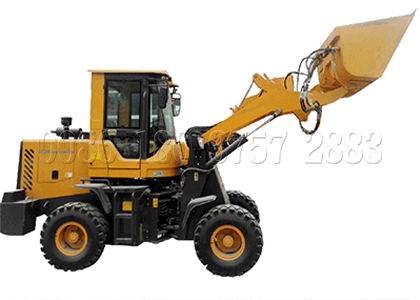 Forklift Compost Turner
Model: SX-300
Color: Yellow(can be customized)
Size: 4930×1620×2660mm
Application: Turning organic wastes piles
Feature: Also can be used as a forklift
The difference between fermentation with Shunxin compost turning machine and natural fermentation
When you plan to buy the fertilizer turning machine, almost of you probably like to ask the question. To be honest, our clients usually speak of the difference between the turning machine and the natural fermentation. Based on more than 30 years production, Shunxin experts here share their experience with you.
Firstly, when it comes to this question, the biggest difference may be the length of time. As you know, if you use a turning machine, which can accelerate the speed of fermenting materials. So, the compositing may only spend you around 7-15 days. On the other hand, assumed you choose natural fermentation, which takes you at least 30 days. Therefore, the natural fermentation is not suitable for large-scale fertilizer production.
Secondly, it is different in the demand of labor. Shunxin almost organic turning machine is automatic. That is to say it is possible that the composting work can be finished without a labor. However, the natural fermentation completely relies on labors to finish the materials fermentation.
Thirdly, besides helping organic materials dissipate heat in fermentation, our turning machine could crush materials in a degree. But the natural fermentation does not possess the function.
Our customers purchase the compost making machine online from Shunxin
Generally speaking, almost our clients purchase compost turners online, especially from the foreign country. Therefore, Shunxin also improves the marketing strategy and takes the combination of online and offline marketing models. Our company specially establishes the department of electronic business for servicing the demands of compost fertilizer making equipment for the abroad fertilizer plants. We are a professional composting equipment supplier and has manufactured many types fertilizer machinery. Hence, if you want to establish a compost fertilizer production line, please to look at our products. Where you will find the whole fertilizer making machines for your fertilizer manufacturing factory.