Shunxin range of poultry pellet machine for sale
Do you know what is poultry manure pellet machine? Commonly speaking, it belongs to a kind of poultry manure machines. The poultry manure granulator is mainly applied to granular fertilizer production from poultry manure. There are four types of poultry dung granulators manufactured by Shunxin. They are new type poultry manure pelletizer, pan poultry manure granulator, drum poultry litter granulator and rotary stirring pellet machine. Furthermore, all the four poultry pelletizers have more than 90% balling rate. If you have large farms, you can use them to make your own poultry fertilizer pellets from your poultry manure waste. Besides, if you are a poultry manure fertilizer manufacturer, your productivity will be greatly enhanced by using Shunxin poultry manure granulator.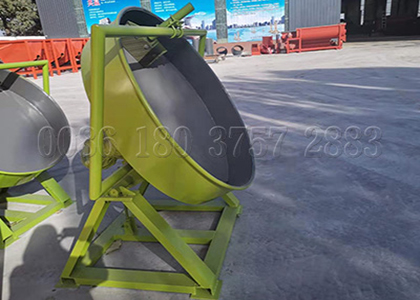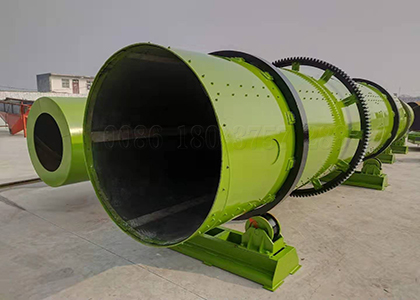 Which raw materials does Shunxin poultry manure pellet machine could process?
Before purchasing the poultry waste fertilizer granulator, you may firstly want to know its applications. As the name suggests, the organic manure pelletizers are dedicated for animal manure, such as: poultry litter, chicken manure, pig manure, cow dung, sheep manure, horse manure and so on. In addition, Shunxin poultry manure granulating machine is a good choice to process agricultural waste, like straw, bean residues. Furthermore, it has the same functions for industrial waste. For example, if you have a sugar mill plant, you can also use our poultry manure pelletizer to make your own fertilizer from the organic sugar residue. Lastly, the poultry manure granulator is available for organic waste fertilizer production and vermicompost manure production.
Four hot sale Shunxin poultry manure pellet machine with high granulation rate
As the above contents describes, Shunxin develops 4 different types of poultry manure pelletizers. In addition to the same function for processing powdery poultry manure, there are also some differences from appearance to capacity. Thus, Shunxin engineer will provide you a detailed information about the four granulators.
Dedicated new type poultry manure fertilizer granulator
You may also call it wet type stirring granulator. Shunxin specially designs it for poultry manure organic fertilizer pellets production. The granulator makes use of high speed rotary mechanical agitation force and the resulting aerodynamic force to make fine powder poultry manure into organic poultry fertilizer pellets. It's capacity changes from 1t/h to 8t/h. Therefore, you can equip it to your small or middle poultry manure fertilizer production line.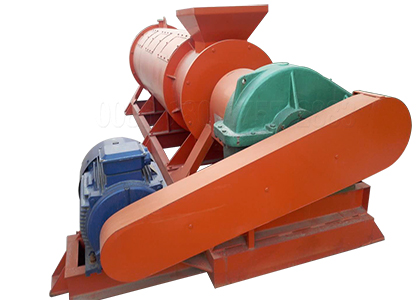 New Type Poultry Manure Granulator
Model: SXJZ-800
Installation Angle: 2°-2.5°
Capacity: 2-2.5t/h
Total Power: 55kw
Dimension: 4250*1850*1300mm
Application: making organic pellet fertilizers
Highly efficient & low consumption rotary stirring granulator
Shunxin newly developed a rotary drum stirring poultry manure pellet machine. According to the market demands, you can use it to make the specific fertilizer shape. What's more, it combines two kinds of granulations: rotary granulating and stirring pelletizing. That makes the granule has higher ball rate and be more beautiful. Meanwhile, the energy consumption is low.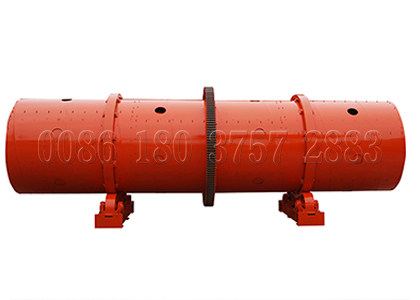 Rotary Drum Churning Poultry Manure Pellet Machine
Model: SXZGZ-1660
Power: 45+15kw
Installation Angel: 2°-2.5°
Rotary Speed: 11.5(r/min)
Capacity: 5-8t/h
93% granulating rate of pan poultry manure granulating equipment
Pan poultry granulator adopts the whole circular arc structure. With three discharging ports, it is convenient for you to carry on discontinuous production. Moreover, the special design reduces the labor intensity. That is to say you do not employ so many labors. In addition, the reducer and motor use the flexible belt drive to start smoothly, which improve the service life of our poultry manure pellet equipment.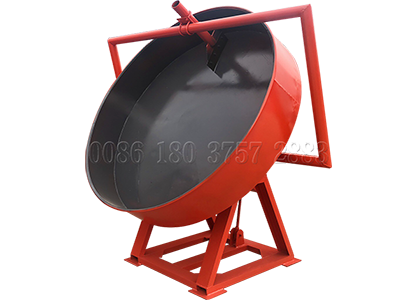 93% Pan poultry manure granulating equipment
Model: SXYZ-3000
Power: 11kw
Diameter: 3000mm
Rotary Speed: 14(r/min)
Capacity: 2-4t/h
Dimension: 3400*2400*3100(mm)
Large scale drum pelletizer for manufacturing poultry manure pellets
Among all the 4 granulating facilities, drum pelletizer has the largest capacity, which could finish 30 tons poultry manure pellets per hour. Thus, you can apply it to your large scale organic poultry manure pellet production line.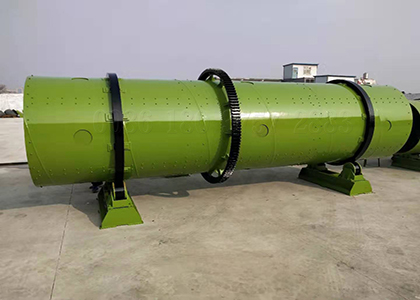 Large-scale poultry manure drum pelletizer
Model: SXZGZ-3210
Power: 37kw
Diameter: 3200mm
Installation Angel: 2°-5°
Rotary Speed: 9.5(r/min)
Capacity: 15-30t/h
In a word, the four poultry manure pellet machine have different configurations. And, according to your requirements, all of them can be tailored at the factory price. What's more, if you have a bigger order, there will be additional discount for you. So, if you have an idea of starting poultry manure pellets, please feel free to contact us for latest quotation.
How does Shunxin poultry manure pelletizing machine work?
Commonly speaking, for making high-quality fertilizer, the complete working process of a poultry manure granulator includes the following procedures.
Firstly, before granulating, you should crush the fermented poultry manure into fine powder.
Secondly, when it comes to working principle, Shunxin four poultry manure pellet machine all adopts the wet type granulation. That is to say you should prepare water and binder.
Thirdly, it is time to granulate poultry manure powder into pellets fertilizer. During this process, through a certain amount of water or steam, the powder poultry manure materials can be fully reacted in chemical way. Then, under the act of high speed rotary mechanical agitation force and aerodynamic force, the poultry manure materials will continuously achieve the balling process in the machine.
Lastly, you should use a fertilizer dryer and fertilizer cooler to remove the moisture and cool the temperature down. Then the poultry fertilizer pellets are finished.
In addition to poultry manure pellet machine, what machine do you need for better processing?
Generally speaking, for making high quality poultry fertilizer pellets, the most important facility is the poultry manure pelletizer in a complete poultry fertilizer pellets production line. But you can't produce qualified poultry manure granules without poultry manure composting equipment. On the one hand, before making poultry manure fertilizer, fermentation process is the first step. Because the fresh poultry manure contains many pests and bacteria, which will influence the fertility of poultry fertilizer. On the other hand, equipped with compost turner, you can finish the poultry manure fermentation within 7 days. Shunxin designs groove type compost turner, self propelled compost windrow turner, chain plate composting machine and so on. Moreover, there are range of small scale fertilizer turners for your reference. Therefore, if you have any other requirements, please feel free to inquiry us.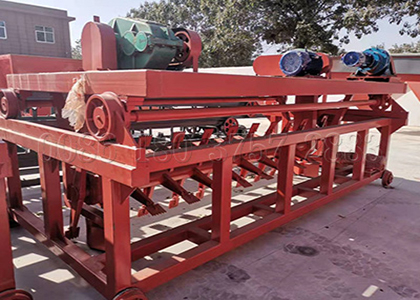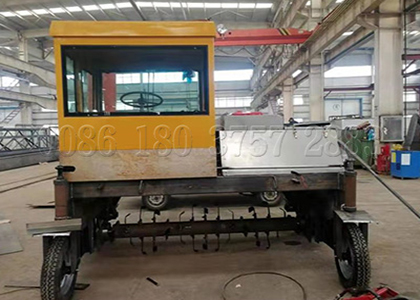 What facility can you get from Shunxin for your own poultry manure organic fertilizer making line?
About this question, there are two conditions you should pay attention to. One is the powder poultry manure organic fertilizer production. And another is the poultry fertilizer pellets production. On the beginning, let us talk about the process of powder poultry manure organic fertilizer. For making powder poultry fertilizer, you should prepare the fertilizer compost turner, crushing equipment, fertilizer mixer and screening machine. And the fermentation facility and fertilizer crusher are necessary.
However, when you start to make poultry manure pellets, there will need more facilities. Usually, you need to assemble fertilizer compositing equipment, crushing equipment, mixing equipment, fertilizer drying and cooling machine, screening machine and fertilizer coating machine. Besides, the most important facility is poultry manure pellet machine, which is the key equipment in the granular poultry manure organic fertilizer making line.
In addition, in order to enhance production efficiency, you'd better to purchase the poultry manure conveyor belt and automatic packing machine. The conveyor belt plays the role in connecting the all process during making poultry fertilizer. And the fertilizer bagging equipment will automatically help you to pack the fertilizer into bags. What's more, that will save you large amount of labor cost.