Representative of dry type granulation: Double roller granulator
Double roller granulator is famous with dry type granulation in fertilizer production industry. It requires that your materials contain moisture under 5%. Moreover, the roller granulator is suitable for manufacturing high, medium, and low concern of special compound fertilizer, like dap fertilizer production, npk and urea fertilizer making.
Therefore, double roller extrusion granulator is a key machine in compound fertilizer production. In addition, you can change the fertilizer shapes by assembling different roller sheets. With reasonable design and low energy consumption, it can perfectly meet your requirements in compound fertilizer pelletizing process.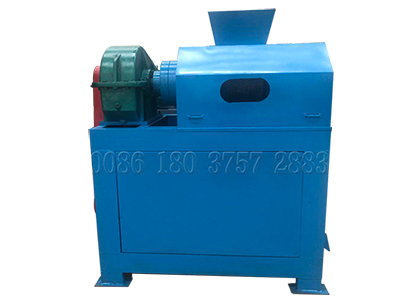 double roller granulator
Model: SXJZ-1T
Power: 11-15kw
Granule Diameter: 3-10mm
Roller Sheet Size: 150*220mm
Dimension: 1450*800*1450mm
Color: red(can be customized)
How reasonable design a roller press granulator from Shunxin Heavy Industry is!
In general, a roller extrusion granulator includes 4 main parts. They are rack section, driving part, extrusion granulating part, crushing and separating part. Now Shunxin experts will give you a detailed information as follows.
Rack section is an overall structure, which is made by high-quality carbon steel plate. All other detailed parts need assembling in the rack section. Besides, there are holes around the machine. That is easy for discharging and transporting.
Driving part refers to that motor drives the belt pulley, triangle belt and speed reducer. This part mainly provides force during double roller granulator working.
Extrusion granulating part is the key section in a roller granulation machine. There have two roller sheets in a complete double roller pelletizer, which will press your powder materials into big tablets.
Crushing and separating part is to crush the extruded big tablets into uniform pellets. Then separating unqualified fertilizer granules, which need you put them into granulating part again.
If you have any confusion or questions, please contact us in time. Our experts will give you more detailed introduction.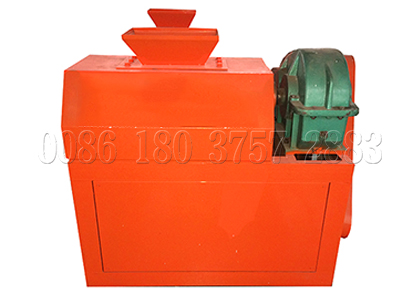 roller extrusion granulator
Model: SXJZ-1.5T
Power: 18.5-22.5kw
Granule Diameter: 3-10mm
Roller Sheet Size: 150*300mm
Dimension: 1450*800*1500mm
Color: red(can be customized)
What greatly features do you enjoy from Shunxin newly double roller granulator: SXXDJZ-IT?
Recently, Shunxin designs a new model in extrusion granulator. Compared with the traditional roller extruding pelletizer, our new type double roller pelletizing machine has the following 5 stunning characteristics:
The feeding inlet is added mixing device to ensure evenly feeding with uniform speed.
The main frame of the box in double roller extrusion pelletizer is equipped with self cleaning device. That efficiently prevents materials from sticking to the roller sheets.
Adjusting roller sheet adopts adjusting spline inside the gear, which ensure that the pair is neat and not misplaced.
The adjustment of roller gap employs step-by-step variable gear adjustment. That makes sure that the clearance is well proportioned.
The operation is more convenient and maintenance is easier.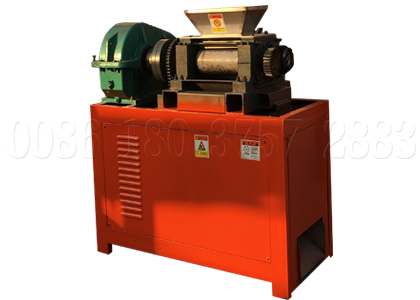 New type double roller extrusion granulator
Model: SXJZ-IT
Power: 15kw
Capacity: 0.8-1.2t/h
Feeding Materials Size: 370*350mm
Roller Sheet Size: 137*200mm
Dimension: 1100*630*1470mm
Color: green(can be customized)
What is working principle in your Shunxin roller press granulator?
After you starting the machine, the motor will drive belt pulley, triangle belt and speed reducer. Then the fertilizer press granulator begins to work. Next, you should feed mixed powder materials into extrusion granulating part through a feeding hopper. Then two roller sheets extrude air out of powder material and feeding material will be into slices under strong press forces.
The following is that the extruded materials is going to enter the crushing part inside a double roller granulator. Here, the big tablets will be smashed into the required fertilizer granules. Lastly, our roller granulator will discharge your qualified granular fertilizer and return powder materials to pelletizing once more.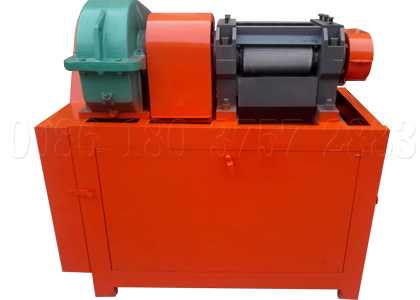 roller granulator for compound fertilizer
Model: SXJZ-2T
Power: 22-30kw
Granule Diameter: 3-10mm
Roller Sheet Size: 185*300mm
Dimension: 1630*850*1650mm
Color: red(can be customized)
Why should you choose a double roller granulator for fertilizer granules production?
Shunxin double roller fertilizer granulator is an important machine in compound fertilizer manufacturing. Of course, if the organic materials belong to dry materials, it is suitable for your organic fertilizer manufacturing plants. There are 5 benefits for you to choose Shunxin roller fertilizer pelletizing machine.
Wide application to all kinds of raw materials. You can not only use double roller process machine in fertilizer pellets producing. But it is perfectly used to make pellets in medicine, chemical, metallurgy, coal and fodder.
Less investment. Extrusion granulator machine making fertilizer pellets in room temperature. Thus, you do not buy fertilizer dryer and cooler machine.
No waste pollution discharging. Our roller pelletizer adopts electricity as the main power. Therefore, there will be less pollution to the environment.
High granulating rate. Double roller extrusion granulator has over 90% balling rate. Moreover, it is efficiently for difficulty in granulating materials.
Easy operation and maintenance. Shunxin applies advance technology in making double roller fertilizer pelletizer. Besides, with the feature of high automated, it is easy to operate.
Processing video about the double roller fertilizer granulator for turning dry powder to granules
What machines do you need, if you choose Shunxin double roller extrusion granulator for a complete fertilizer manufacturing line?
Although fertilizer granulatoris the key equipment in fertilizer granules production process, it is necessary for some auxiliary fertilizer facilities. To be honest, if you select double roller granulator as your fertilizer granulation equipment, there also needs fertilizer crusher, fertilizer mixer and fertilizer packing machine.
Fertilizer crushing facility is to smash your solid materials into fine powder, which is the first preparation for granulating fertilizer materials.
Then you should choose a suitable fertilizer mixer to make the second preparation for powder fertilizer pelletizing. That is to uniformly mix the fine powder with all other matching materials.
As for the fertilizer bagging equipment, it is for quickly packing your qualified granular fertilizer into bags. As long as these fertilizer making facilities efficiently cooperate, the fertilizer production productivity can has a great improvement.
For longer service life of Shunxin roller extrusion granulator, what do you should pay attention to?
Based on more than 30 years' experience, Shunxin experts summarize some experience in using double roller granulator. There are several tips for you to use our roller press pelletizer for long time.
When you are going to start the machine, please firstly confirm there is no feeding materials inside of roller pelletizing machine.
Before feeding your materials into double roller extrusion granulator, there should no materials with iron. Because the iron will destroy your roller sheets.
It is necessary for you to wipe some butter on the belt pulley before powering the machine.
Every 7 days, you should wipe dry butter in the chain and sprocket wheels inside of fertilizer press granulator.
Before using speed reducer, it is required to add butter into belt pulley. Moreover, every 4 months, you need to add once more.
The above contents are about Shunxin series double roller granulators. if you have interest, please feel free to contact us. Or if there are questions and confusions, welcome to talk with our fertilizer equipment experts together.