What is manure dewatering machine manufactured by Shunxin Heavy Industry?
Do you still worry about how to remove the water from your fresh manure? If your answer is "Yes", our manure dewatering machine is a good solution for solving your difficulty. Shunxin manure dryer equipment is also named solid-liquid separator machine, which is a kind of manure drying system. Shunxin specially designs it for organic fertilizer manufacturers to process organic materials. You can use it for separating liquid of livestock manures like pig manure, sheep manure and cow manure from the soild manure. What's more, this machine is perfectly available to medicine dregs and lees.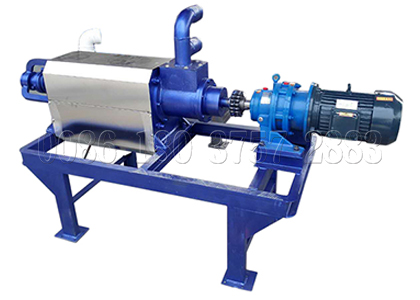 manure dewatering machine
Model: SX-180
Main Power(kw): 4
Pump Power(kw): 2.2
Voltage(v): 380
Dimension(mm):2020×650×1150
Shunxin dewatering machine is perfectly available to all type's organic fertilizer production line,such as: bio-organic fertilizer making process and organic waste organic fertilizer production. Simply speaking, as long as your raw materials moisture content excessive the understand of formula, you can use our manure drying system.
Shunxin Different Advanced Animal Manure Dewatering Machine for Your Fertilizer Materials Processing
Based on different organic materials, Shunxin designs three types manure drying machine for organic fertilizer industry. Over the past more than 30 years development, the company provide cow dung drying machine, chicken manure dryer machine and poultry manure drying machine. Each of them has a little difference in their own performances and capacity. Therefore, Shunxin experts show you the details for your reference.
Cattle feces dewatering machine for organic compost making line
As the name suggests, cow dung dewatering machine is dedicated for processing cow manure. It is a kind of livestock manure dewatering facility. As you know, the moisture in cow dung is relatively higher than other animal manures. Generally speaking, the moisture is about 70% to 80%. So, the cattle manure dewatering equipment is more advanced and has higher capacity.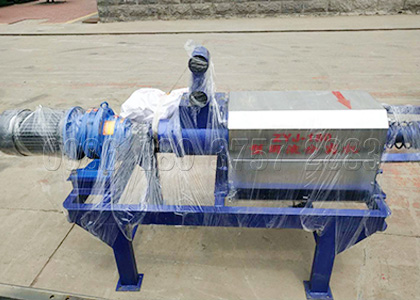 manure dewatering machine for cow dung
Model: SX-230+
Main Power: 5.5kw
Pump Power: 2.2kw
Vibrating power:0.04kw
Hot sale poultry manure drying machine
As for poultry manure drying machine, you should firstly know poultry manure refers to chicken manure, duck manure and goose dung. Therefore, the poultry manure dewatering machine has wide application. That is to say, if your organic fertilizer materials contain several poultry manures, one poultry manure drying machine could finish all the work.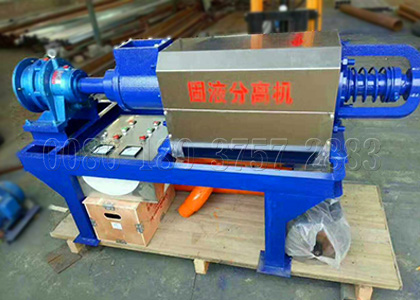 Poultry manure drying machine
Model: SX-230
Main Power(kw): 5.5
Pump Power(kw): 2.2
Vibrating power: /
Voltage(v): 380
Dimension(mm):2350×800×1150
Chicken manure drying system
Firstly, chicken manure drying system belongs to poultry manure drying system. Compared with poultry manure drying machine, it is dedicated for chicken manure fertilizer production line. Thus, if you are special in chicken manure fertilizer manufacturing, it is the ideal choice for your fertilizer production.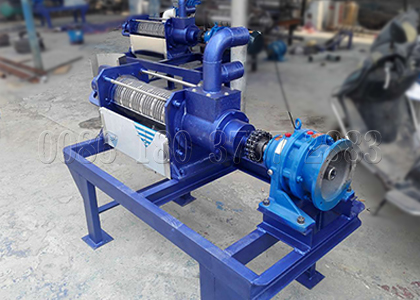 Chicken manure drying system
Model: SX-180+
Main Power: 4kw
Pump Power: 2.2kw
Vibrating power: 0.04kw
Voltage: 380v
Dimension:2020*650*1150mm
How does Shunxin manure dewatering machine work during organic fertilizer production?
Firstly, you need the conveyor belt to constantly deliver wet organic manure to a manure dewatering equipment.
Secondly, the screw force in the machine will push the wet material forward. And at the same time, the pressure force in the manure solid-liquid separating equipment will gradually increase.
Thirdly, under the great pressure force, the moisture in wet manure will be extrude. Then the water will flow out of the machine from filter.
Fourthly, the pressure force is still increased. And when the force is enough, the processed wet materials will come out of the manure dewatering machine discharging ports.
The above is the complete processing procedures of Shunxin manure dewatering facility. If you have interest or any problems, please contact us in time. and our experts will give you the latest information about this dewatering equipment.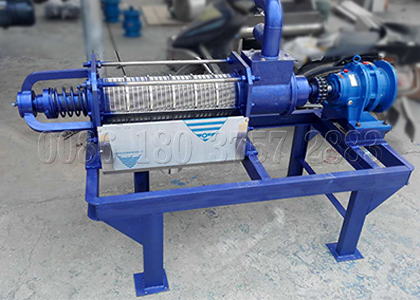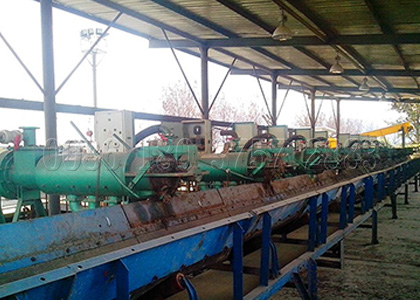 How can you process the dewatered organic cow dung for better recycling?
Cow dung is a good material for making organic fertilizers. Generally, using cow dung as material for organic manure fertilizer processing can bring you much economic efficiency. Meanwhile, it is also helpful for reducing the environmental pollution. Here you can know how to process the dried organic cow dung better.
Composting cow dung for available fertilizers making
For making fresh cow dung into fertilizers, it is necessary for you to compsot them firstly. Through composting, the bad bacteria of cow dung will be killed. Here you can use a cow dung organic compost turning machine for composting efficiently. There are various organic manure compost making machines for you to choose. Whether for you small scale or large scale composting requirements, we can meet your needs.
Processing the cow dung compost into commercial organic fertilizers
Manufacturing commercial organic cow dung, you can choose our granular cow dung fertilizer making line. Or you can also use a cow dung fertilizer pulverizing machine for making powdery fertilizers. Our manure fertilizer grinding machines can help you make fine fertilizers powder.
If you want to make granular fertilizers, what you need to do is granulating these pulverized organic fertilizer powder. After the drying, it is suitable for you to pack them directly for selling.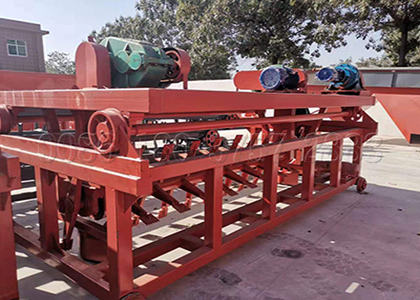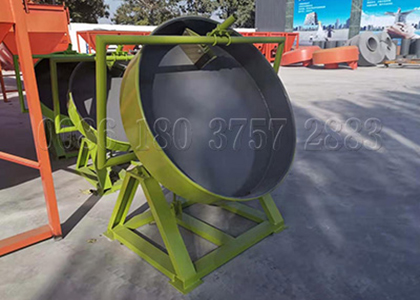 Who can you rely on among the cow dung dewatering machine manufacturers in China?
If you are finding reliable manufacturer of making cow dung drying machine in China? There is a perfect suggestion that is China's pioneer in manufacturing organic fertilizer equipment.
Henan Shunxin Heavy Industry Co., Ltd. has more than 30 years in making solid-liquid separator machine. Furthermore, Shunxin understands customer's needs based on decades relationships with our clients. You could select the most suitable dewatering facility from Shunxin for your cow dung processing. In 2018, Shunxin has sale hundreds of cow dung drying equipment to India, US, Mexico and so on. And, all our clients give high praise to Shunxin manure drying system. So, if you have need, please feel free to inquiry us.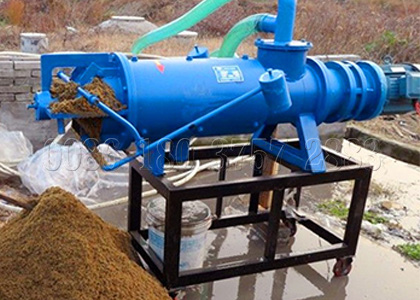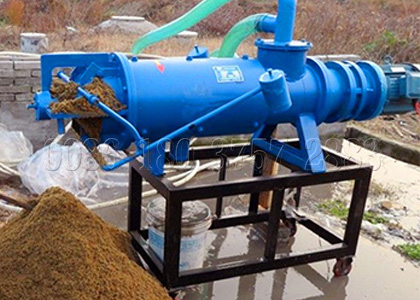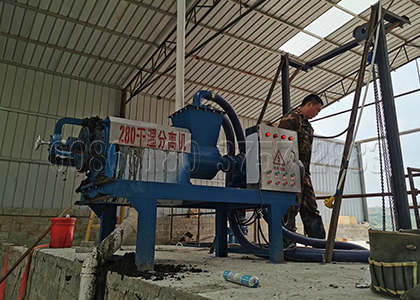 What's the price of cow dung dewatering screw press machine?
Buying a cow dung dehydrating machine at afforable price, you should find a professinal equipment supplier. And the cost depends on the production capacity and the quality of machine. Our cow dung dewatering machines has many specifications with different production capacity. Different capacities have different prices. If you want to buy a cow dung drying machine for large scale organic cow dung dewatering, the price will be higher. Besides, if you do not know which type of separators is suitable for your fertilizer production, we can provide you professional advices. Meanwhile, different equipment configurations also influence the price. For example, if you are going to buy a cow dung fertilizer processing line, we can provide you different equipmnt configurations. And you can get some discounts.
Organic manure dewatering machine for separating liquid and solid
Q&A for Shunxin organic manure dewatering machine
Almost our customers have asked the following questions when they plane to buy a cow dung drying machine for their organic fertilizer production line. There, Shunxin engineers will give you detailed answers.
Q: What is the cost of cow dung dewatering machine?
A: When it comes to cow dung dewatering machine price, this is the issue that investors are most concerned about. To be honest, the investment to a cow manure drying machine is really small. Due to the difference in models and configurations, the cost of cow manure dewatering machine will be different, too. In addition, another factor that affect the price is the motor. As you know, the motor is the important part in a machine. Therefore, the quality of a cow dung dewatering machine also determines the difference in price. Meanwhile, there are some other equipment for your organic manure ferilizer manufacturing plant. It is available for you to get discount.
Q: How does the cow manure dewatering machine play role in organic cow dung fertilizer production line?
A: As you know, cow dung is good materials for making organic fertilizer. But you should process it before use cow manure as fertilizer to farmland. However, the fresh cow manure contains large amount of moisture. Excessive moisture content will influence the most important procedure in cow dung fertilizer production: cow manure fermentation. Hence, you need to assemble a cow dung drying equipment to remove certain moisture according to the fermentation requirements. In a general, dewatering cow dung is the first procedure in whole cow manure organic fertilizer production. So, the cow dung dryer equipment is the necessary machine in the cow dung fertilizer production line.