High-quality organic fertilizer granulator from Shunxin Heavy Industry
Organic fertilizer granulation machine is an important organic fertilizer machine. It can help you deeply process the organic powder materials into fertilizer pellets. Compared with other fertilizer granulating machine, Shunxin organic fertilizer granulator is especially for organic fertilizer granules production. The machine can perfectly produce poultry manure, vermicompost, food waste, organic garbage and sludge into granular fertilizer.
Besides, our granulated organic fertilizer making machine is widely used to diary farm, sugar factory, winery for processing organic residues. At present, its capacity is change from 1-8t/h. Moreover, if you want to large granulating machine, Shunxin engineers could provide you customized sample. Therefore, if you have large amount of organic wastes, why not to convert them into your own organic fertilizer. That is not only good for environment, but also is an opportunity for make profit. Having interest, please tell us in time.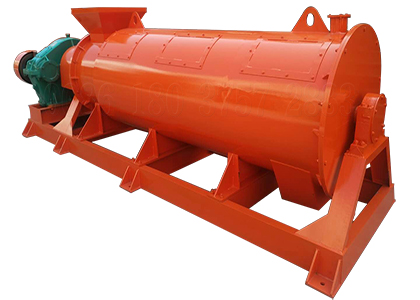 New Type Organic Fertilizer Granulator
Model: SXJZ-600
Installation Angle: 2°-2.5°
Capacity: 1-1.5t/h
Total Power: 37kw
Dimension: 4100*1600*1150mm
Application: making organic pellet fertilizers
What is great design in an organic fertilizer pellet mill?
In general, a complete organic fertilizer granulator is composed by 5 parts. That is motor, reducer, cylinder, main frame and rotor. Reasonable compact structure promises efficient operation of Shunxin organic fertilizer pellet machine. Now, let us engineer show their specific function for you.
Motor is to provide the power for the organic fertilizer granulation machine to granulate organic powder. So, if you plane to invest large scale organic fertilizer production, it is better to equip a motor with high-power.
Reducer is to control the speed of cylinder rotating. By reducing the speed, there will generate large forces, which mainly provide power for pelleting organic powder.
The cylinder that is the machine body, mainly for organic materials pelletizing. Moreover, it includes 3 parts: the feeding material mixing part, granulating part, pellets polishing part.
Main frame is the fundamental part, which is mainly to support other 4 parts. Hence, Shunxin employ the best alloy as main raw materials for making organic fertilizer granulating machine frame.
Rotor is the key part in an organic fertilizer pelleting equipment. Similar to cylinder, it also has 3 portions: axis, stir the teeth and stir the teeth head. Under the force of rotor rotating, your feeding materials will gradually finish the balling process.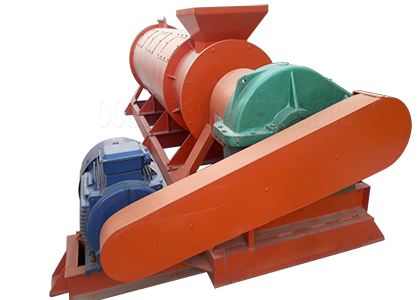 organic fertilizer granulation machine
Model: SXJZ-600(can be customized)
Installation Angle: 2°-2.5°
Moisture of Feeding Materials: 20%-40%
Size of Feeding Materials: 50 mesh
Dimensions(mm): 4100×1600×1150
Capacity(t/h): 1-1.5
How does Shunxin organic fertilizer round ball granulator pelletize your powder organic materials?
Through the above contents, you know the feeding organic materials is granulated in the cylinder. Then, the feeding materials will go through the following 3 phrases.
The first is feeding materials mixing process. After starting organic fertilizer granulator around two minutes, you can put organic powder into the organic granulating machinery. The materials will enter into mixing session in the cylinder. Here, your organic materials can get mixed. Thus, you can save the investment for fertilizer mixing machine.
Secondly, after materials uniformed, your organic materials will undergo the granulating process in the middle of organic pelletizer. Your fine powder materials continuously achieve the process of pelletizing through function of agitation force and aerodynamic force.
Thirdly, your granulated ball fertilizer will enter the bottom of cylinder, where is to polish the finished ball organic fertilizer. During this process, the fertilizer pellets that is not enough round will be polished again for once time. Materials finishing this phrase, the fertilizer pellets will have a more beautiful appearance.
Remarkable features you can enjoy from Organic fertilizer granulator
With 95% granulating rate. Shunxin organic fertilizer pelletizing machine has the highest balling rate among all types powder granulating machine.
Dedicated for pure organic fertilizer. This type organic pellet machine is specially for organic fertilizer pellets production.
Possessing long service life. Both reasonable structure and best alloy steel promise Shunxin organic machine's high quality.
Easy operation & Maintenance. With highly automated design, it is easy to operate and convenient to maintain.
Before granulating, what should you do to your organic materials?
If you want to make high quality organic fertilizer pellets, your materials should be firstly smashed into fine powder by a fertilizer crushing machine. In general, the size of feeding materials needs to meet the requirements of organic fertilizer granulator. it is suitable to crush organic materials into 50 mesh.
For another, organic fertilizer pellet mill adopts the granulation of wet type technology. Hence, your materials should contain 20%-40% moisture. Furthermore, it is unnecessary to dry your organic materials after fermentation.
Six types organic fertilizer pellets can be granulated by Shunxin organic fertilizer pellets making machine
Generally speaking, our organic fertilizer granulator could granulate all kinds of organic fertilizer pellets. Detailed application is as follows:
If you have interest to make one of the above organic fertilizer pellets, please feel free to inquiry us. Shunxin Heavy Industry not only provide organic fertilizer granulation machine. Furthermore, the company supplies complete auxiliary equipment for organic granular fertilizer manufacturers.
Shunxin Heavy Industry—-Professional organic fertilizer granulation machine suppliers in China
Founded in 1987, Henan Shunxin Heavy Industry Co. Ltd. is a leader in fertilizer equipment industry. By far, the company has established its standardized heavy industrial plant of 60 thousand square meters. We have our own staffs who is to produce all the organic fertilizer machines. In addition, there are professional mechanical experts and engineers that continuously design new organic fertilizer machines. Or, based on new technology, they are constantly updating organic fertilizer granulator machine. So, you can also name us as factory outlet.
Moreover, over the past 30 years, our organic fertilizer granulating machine has steeped into the global market. For instance, our clients are from India, America, Egypt, Saudi Arabia, Philippines, etc. The most important is all our customers give great praise to Shunxin organic fertilizer pelleting equipment. Therefore, if you have idea of making organic fertilizer granules, please let us know in time.