Mixed fertilizer manufacturing process is equal to BB fertilizer production. According to certain proportion, BB fertilizer production line is to make a kind of bulk blended fertilizer by mixing several straight fertilizers . Generally speaking, the most common raw materials are the three single fertilizers. They are nitrogen fertilizer, phosphorus fertilizer and potassium fertilizer. However, because of the different formulas, you may also add some other materials.
The fertilizer made by mixed fertilizer manufacturing process the features of high nutrient. And it is more and more popular with the agricultural market. Hence, Shunxin seizes the opportunity to produce the BB fertilizer manufacturing equipment. At present, we can provide the complete facility for a BB manure production flow.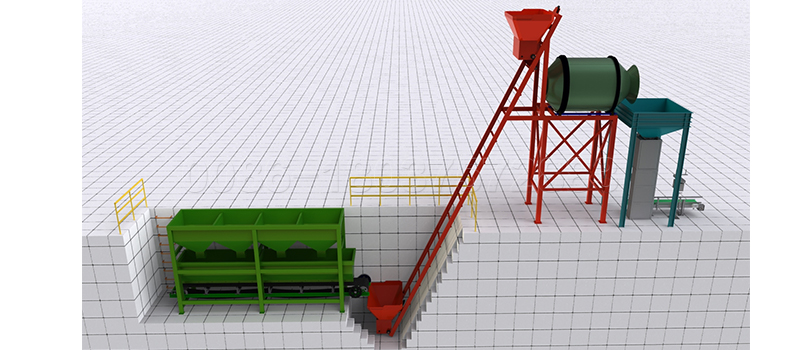 If you want to produce BB fertilizer, there needs the BB fertilizer mixer, batching machine, conveying machine, and packing machine. Shunxin Heavy Industry will give you a detailed information about the mixed fertilizer producing process as follows.
Shunxin complete high-quality machines for bulk blending fertilizer manufacturing line for sale
Over the development of thirty years, Shunxin is able to produce a series of facilities for the fertilizer plant. Now the following contents is about some machines in the BB fertilizer production line.
Batching machine: It is assembled in the first step. When you begin to produce the bulk blended fertilizer, you need the batching machine to batch these several single fertilizers according to the formula. Shunxin dynamic automatic batching machine could meet the strict requirements about proportion of various materials.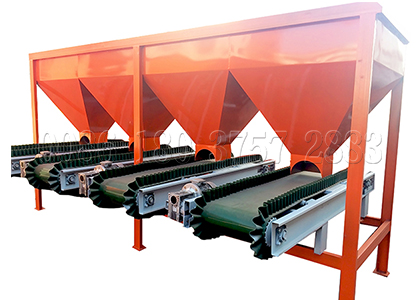 Dynamic Automatic Batching Machine
Model: SXPL-600
Capacity: ≥1.25t/h
Number of Hopper: 4(can be customized)
Color: red
Feature: precise and fully automatic
BB fertilizer conveyor: This machine plays an important role in all the fertilizer production lines. Its founction is to transport the batched raw materials into the BB fertilizer mixing machine. And then convey the mixed materials to the storage hopper. So, in order to the efficient production, you need the conveying belt to connect all the machines into a whole.
BB fertilizer mixer: This is a dedicated machine for the BB fertilizer production line. And it also is the key equipment in the whole BB fertilizer process. Even if there is great difference in the proportion of raw materials, Shunxin BB fertilizer mixer could mix all the straight fertilizer evenly and quickly.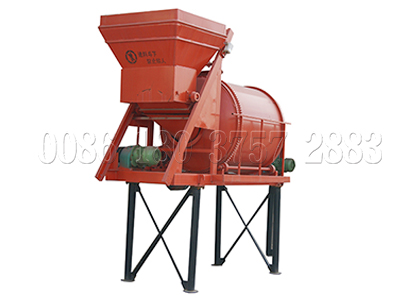 BB Fertilizer Mixer
Model: SXBM-1525
Power: 5.5kw
Lift Power: 1.5kw
Capacity: 5-10t/h
Application: mixing pellet fertilizers
Storage hopper: It is usually assembled before the packing machine and act as a buffer. The storage hopper is used to store the finished bulk blending fertilizer. If your capacity is large and the packing machine is relatively slow, it is time for you to increase a storage hopper.
Fertilizer packing machine: Shunxin automatic packing scale is divided into single bucket packing scale and double bucket packing scale. It can meet the demand of your quantitative packing. Thence, you can choose one of them with your actual capacity.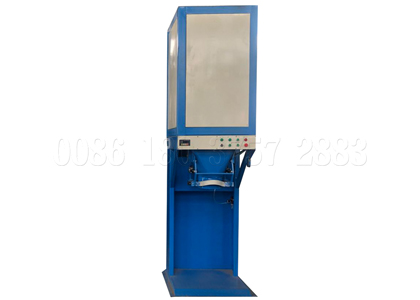 Packing machine for bb fertilizer granules manufacturing
Model: SXH-50
Function: packing and weighing materials
Weight: 500kg
Voltage: 380v
Packing Speed: 3-4bags/min
Degree of Automation: fully automatic
Here you should pay attention to the two details as follow:
If your BB fertilizer making line is small scale. Or the packing scale could keep pace with the transmission of finished fertilizer. So, it is not necessary to assemble storage hopper.
If the bulk-blending fertilizer needs many straight fertilizers, there is the dynamic automatic batching machine with 6 or 8 raw material bins for you.
Great benefits for you in using Shunxin mixed fertilizer manufacturing process
High quality. Our products is resonable design and employ the most advanced technology in the production process.
Less cost. As the above mentioned, Shunxin a complete set of bulk blending fertilizer production line only need three machines to make BB fertilizer.
Large capacity. Shunxin BB fertilizer mixer has competence to process 30 to 50 tons per year.
Wide range of application. Bulk blending fertilizer making flow provided by Shunxin widely apply to different BB fertilizer processing. When you have new BB fertilizer formula, you can produce it with our complete machines.
All the BB fertilizer making machine can be customized. And our engineers will design a suitable one according to your detailed requirement.
Shunxin's machines are durable, which means the production line has a long service life.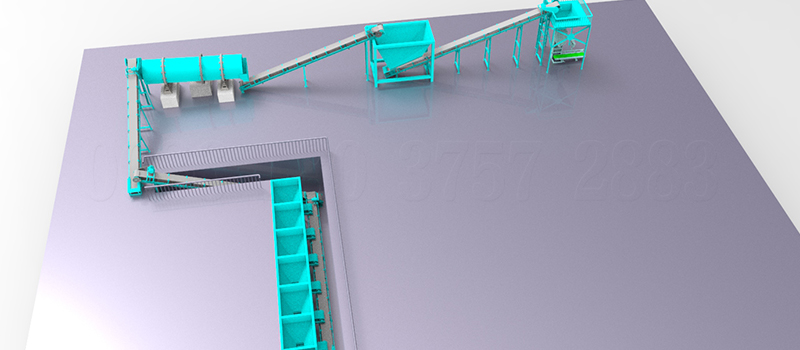 What is the working procedure of mixed fertilizer manufacturing process?
After learning much knowledge about the machines of making BB fertilizer, you might want to know the working process of the production line. To make mixed fertilizer, there is the batching process, BB fertilizer mixing process and the packing process. Now, Shunxin will give you a detailed a statement in the following contents.
Batching process: At the beginning, you should put all the straight fertilizer into the dynamic automatic batching machine on the basis of the proportion. After finishing the batching, the raw materials will be transport to the next process by the belt in the batching machine.
BB fertilizer mixing process: With the movement of conveying belt, the batched single manure is sent to a BB fertilizer mixer. Here, fertilizer mixer will fast mix all straight fertilizer until materials get into a state of even. Then conveyor will deliver the mixed bulk-blending fertilizer into next procedure.
Packing process: In the process. if the capacity is large, the mixed fertilizer will be first transported into a storage hopper and then flow into the automatic packing scale. You can set the weight you want like 20kg, 25kg, 30kg and so on.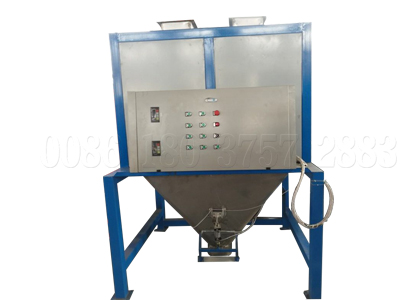 Automatic mixed fertilizer packaging machine
Model: SXH-C100
Function: packing and weighing materials
Weight: 800kg
Voltage: 380v
Packing Speed: 5-8bags/min
Degree of Automation: fully automatic
Comparation between the mixed fertilizer manufacturing process and the Compound fertilizer production line
To some extent, BB fertilizer is a kind of compound fertilizer, but there is also some difference between the two fertilizer production flows.
On the one hand, mixed fertilizer manufacturing process is to produce several different granule fertilizers into a mixed fertilizer, whose manufacturing process is simple. However, the compound fertilizer is a kind of fertilizer that contains two or more elements of N, P, K or other nutrients and its production process is relatively more complicate than mixed fertilizer. what's more, the BB fertilizer producing line can adopt different BB fertilizer formula to produce different type mixed manure according to the demand od farm soil.
How much will a complete mixed fertilizer manufacturing process cost with Shunxin's equipment?
Firstly, compared with other fertilizer production lines, the bulk-blended fertilizer manufacturing process is relatively simple. If you are to establish BB fertilizer producing flow, several main machines are neceaasry like the batching machine, BB fertilizer mixer and the packing machine. Therefore, it will not spend you too much. Or if you really don't invest the machines, Shunxin advises you purchase only a BB fertilizer mixer to process the bulk-blending fertilizer. As for other equipment, you can employ some labors to finish batching materials and packing.
Secondly, Shunxin Heavy Industry is a factory that our products are directly sent to the customers. And the machines you get is EXW price. That is to say you can save a large amount agency fee.
Thirdly, with rich experience in making facility, Shunxin is the leader manufacturer in the fertilizer equipment industry. Our high- quality products could promise that there is less trouble in the fertilizer production processing, which can also help you save a lot of maintenance costs.
All in all, establishing a BB fertilizer manufacturing flow with Shunxin's equipment, you will take least cost to assemble a high efficiency production line.